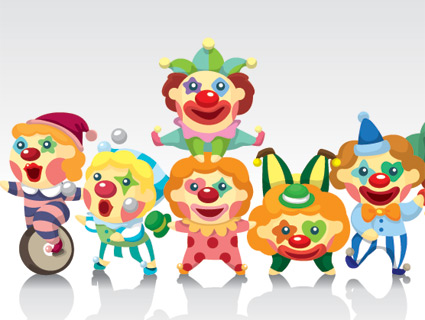 Fight disinformation:
Sign up
for the free
Mother Jones Daily
newsletter and follow the news that matters.
A birther, a LaRouchie, a tea party rabbi, and a Christian fundamentalist walk into a bar.
Actually, no—this is a list of Republicans competing in next Tuesday's Senate primary in California. Thanks to big changes to how the Golden State conducts its primaries, 23 long-shot candidates—a Libertarian, an American Independence Party member, two Peace and Freedom Party members, five Democrats, and 14 Republicans, including the four mentioned above—are battling for a chance at a high-profile face-off with Democratic incumbent Dianne Feinstein in November. And the Republicans are so weak in the state that their side of the contest has become something of a political clown show.
This year, California is introducing a "top-two primary" system for its legislative, congressional, and statewide elections, including the Senate race. Under the new rules, the Democratic and Republican parties are no longer guaranteed a spot on the general-election ballot. Instead, the two candidates who receive the most votes in the primary on June 5, regardless of party, will compete in the general election. In theory, two Democrats, two Republicans, or even two Peace and Freedom Party members could end up advancing to the main event.
Feinstein, a three-term incumbent Democrat running for reelection, is all but certain to make it through the primary. In the most recent public poll of the primary, more than half of the likely voters surveyed said they planned to vote for her. But it's "impossible to know" who will face Feinstein, SurveyUSA, which conducted the poll, said in a press release. In the poll—conducted, appropriately, over April Fools' Day weekend—none of Feinstein's 23 aspiring challengers registered more than 2 percent support statewide. That means the GOP has not been able to field a credible candidate for this seat in a year in which Democrats are playing defense.
"This is what happens when a party doesn't have serious chance of winning," says John Pitney, a professor of politics at Claremont McKenna College in Southern California. "You get some candidates who are intelligent and well motivated, and then you get a whole bunch of wackos who resemble the bar scene from Star Wars…Unless Feinstein is revealed to have a secret life as a cat burglar, it doesn't really matter who ends up being the Republican nominee, because he or she is not going to end up a US senator."
It's easy to see why credible GOP candidates might turn down the opportunity to face Feinstein. California is very blue territory, and President Barack Obama is expected to carry the state easily this November—and increase Democratic turnout. In 2010, an election year that was disastrous for Democrats almost everywhere outside of California, Feinstein's Senate colleague Barbara Boxer won reelection by 10 points. The Republican candidate Boxer crushed was Carly Fiorina, a world-famous multimillionaire executive. None of the GOPers lined up to face Feinstein are so prominent—or well funded.
This year, the bigwigs at the state Republican Party are pulling for Elizabeth Emken, a financial analyst who once lobbied for the autism advocacy group Autism Speaks. Despite a relative lack of political experience—she came in fourth of four candidates in a Republican congressional primary in 2010—Emken may be the most mainstream of the GOP contenders. "All of the candidates are certainly interesting people, but Emken's our guy," says Micah Grant, deputy communications director of the California Republican Party, who claims he is "extremely confident" about the GOP's chances to take this seat.
But for the GOP to be successful in the fall, one of its candidates has to survive the top-two primary. Emken is polling at just 2 percent—leaving an opening for just about any of the other 13 Republicans to seize a spot on the November ballot. A handful of competent but largely unknown candidates, including Oceanside businessman Dan Hughes, end-the-fed libertarian Rick Williams, and tea partier John Boruff are also polling in the 1-2 percent region. The rest of the GOP field is a potpourri of true believers, conspiracy theorists, and novelty candidates, each one bringing a strikingly unique profile to the party.
One of the most recognizable GOP candidates is Orly Taitz, a dentist and former real estate agent who entered the national conversation in 2009 as a leader of the birther movement. In 2010, Taitz mounted an unsuccessful bid to become the GOP nominee for California secretary of state—she was defeated by a 3-1 margin by Damon Dunn, a former professional football player. She is now upbeat about her prospect for unseating Feinstein, citing her supposed search-engine-mentum.
"Based on looking at the Google searches, you see that there is more interest—worldwide interest, actually—in my candidacy than Feinstein's," contends Taitz, the self-described "anti-establishment candidate" who says she is taking on the "the official California GOP puppet," meaning Emken.
Taitz's platform includes offering tax credits to companies that eschew outsourcing, kicking off a trade war with China, and starting an ambitious desalination program (similar to those found in Israel and India) to solve water shortages.
And she has not given up birtherism, declaring that the long-form birth certificate Obama released is a fraud. She promises that she'll take the issue all the way to Washington, provided she topples Feinstein and Obama beats Romney. "I will bring this challenge to the floor of the Senate…and intend to call an emergency hearing," Taitz tells Mother Jones. "Forgerygate is 100 times bigger than Watergate. President Obama would be smart to leave [office] before the 2012 election and get a pardon from Biden."
Orly Taitz isn't even the most colorful Republican candidate in the race. That honor probably goes to Nachum Shifren, an Orthodox rabbi who previously made a failed run for California state Senate in 2010. As a public figure, Shifren stands at the cultural intersection of surfer bro, Hasidic Jew, and far-right agitator.
At times, it sort of seems like Shifren's bio was stolen from a Dos Equis commercial. He's worked as a competitive swimmer, a Malibu lifeguard, a language teacher, a rabbi, and served in the Israeli Defense Forces. Over the years, he's cultivated a reputation as the "surfing rabbi" of California…and of the entire world, really. Shifren started Jewish Surfers International, an organization he used to "take people surfing" so that they "get turned on to the divine energy of the ocean." He's authored two books, including 2001's Surfing Rabbi: A Kabbalistic Quest for Soul.
Shifren is also known for his ultra-conservative tendencies and extremist ties. When he's not espousing tea party values or getting chummy with politicians like Rep. Dana Rohrabacher (R-Calif.), he can be found railing against Muslim communities. "I am an Islamophobe!" he proudly shouted in front of a crowd of supporters in San Mateo in early May. One of Shifren's pet causes is supporting the English Defence League (EDL), an anti-Muslim protest movement in England that has been described by the Observer as a "dangerous cocktail of football hooligans, far-right activists and pub racists."
"[Muslims] eat each other alive, like the dogs that they are," Shifren said on stage at an EDL rally in 2010. "We shall prevail, we will not let them take over our countries. We will never surrender to the sword of Islam." The Shifren campaign did not respond to multiple requests for comment.
For Republican primary voters in California who don't think Shifren's Shariah-takeover narrative is conspiratorial enough, there's another candidate to consider: Robert Lauten. He regularly blasts Feinstein for having "blood on her hands" for supporting "Obama's unconstitutional Libya war" and "Obama's unconstitutional Syria war." (For the record, the Obama administration has not, as of press time, intervened militarily in Syria.)
Lauten is a staunch advocate for the impeachment of Obama, whom he calls a "warmonger." Much of Lauten's campaign website is dedicated to providing links to outlets such as Alex Jones' Prison Planet and Lyndon LaRouche's LaRouchePAC—two online hotbeds of acute wingnuttery. Lauten also regularly touts his three-step plan for boosting America's ailing economy: reinstate the Glass-Steagall Act, shore up a Hamiltonian credit system, and revive the North American Water and Power Alliance project from the '60s. Lauten's campaign didn't respond to multiple requests for comment.
And for Republican voters in California turned off by tea party champions and conspiracy theory enthusiasts, there's another candidate: evangelical Christian and Afghanistan war veteran Dirk Konopik. If he wins, he vows, one of his top priorities will be to introduce legislation for a total ban on pornography in the United States. By the way, his campaign website is set to a soundtrack of crashing thunder and ominous sound effects.