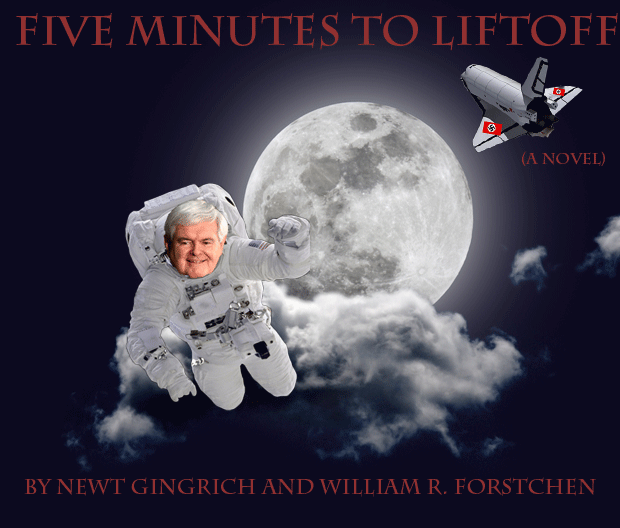 Fight disinformation:
Sign up
for the free
Mother Jones Daily
newsletter and follow the news that matters.
On Wednesday, former Speaker of the House Newt Gingrich will formally suspended his presidential campaign, crushing the dreams of the dozens of supporters who hoped he'd follow through on his pledge to fight all the way to Tampa, Florida.
But for Gingrich, this is merely a shady highway rest area on the larger journey of political ambition. A prolific author, Gingrich specializes in alternative histories, novels based on the premise that (to use a couple of actual examples) Robert E. Lee was victorious at Gettysburg, or that the Germans invaded eastern Tennessee at the end of World War II.
Mother Jones has obtained an exclusive draft of Gingrich's latest, and most ambitious effort: The inside story of how a plucky, brilliant—dashing, even—former speaker of the House stuck it to the doubters to win the Republican presidential nomination. Here's the first chapter.
Five Minutes to Liftoff: How Newt Gingrich Beat the Weakest Republican Front-Runner Since Leonard Wood in 1920
By Newt Gingrich and William R. Forstchen
Thomas Dunne Books

1. The Briefcase

Wolf Blitzer blinked, blinked again, and tried, for the fourth time, to read the script in front of him. The news had come across the wire just a few minutes earlier, and it still didn't seem real. More like a magical illusion, like the hologram projector they had unveiled in 2008 and then scrapped a week later. He had really liked that hologram projector.

To hell with it, Wolf thought. Just tell them what you know. He took a long pause and looked into the camera. "We're watching this very closely," he said.

Wasn't everyone? Political pundits had known the 2012 presidential race might pivot on a handful of crises—high gas prices, gridlock, Iran. No one could have predicted that the Nazis would come out of hiding from their top-secret base on the moon, armed with a powerful electro-magnetic pulse that could end civilization as we know it. This was different. No one had prepared for this. No one knew what to do.

Well, almost no one. At his home in McLean, Virginia, Newt Gingrich flicked off the television, took a deep breath, and stared at the briefcase in front of him. He'd been waiting for this moment.

Since entering the Republican presidential race one year earlier, Gingrich had been mocked, scorned, cast aside. Rivals had laughed at his "grandiose ideas"—their term for proposals like a permanent colony in outer space and a fundamental overhaul of our defenses against electronic warfare. Projects they said couldn't work. Projects he said couldn't wait.

No one was laughing now. Those innovations just might be America's last hope.

Over the last 10 months, Gingrich had racked up enormous debts—$4.5 million, according to the most recent published reports. It was hard to keep track. Combat-ready robots don't build themselves. At least not yet, anyway. For years, he'd argued that racking up such debt was acceptable only in times of war. What was this, then, if not war?

He fidgeted with the briefcase and picked up his phone. Two missed calls.

Adelson.

If only he could see me now, Gingrich thought. For the first time in more than a month, he smiled.

Gingrich could hear the engineers making their final preparations on the other side of the bookshelf. It functioned as a trap door; he had had it installed in his home at a cost of $75,000 (for "catering," he told the FEC). He flipped open the briefcase: 100 percent charged. The rocket was almost ready. Callista was already onboard.

He flicked the switch and waited for the red button to light up, then turned the key. The lights flickered and the room went dark. The penguin in the corner let out a squawk. He had forgotten it was there. "Patience, Pericles," Gingrich said.

The ship shot out of the earth with a roar, leaving a vast plume in its wake as the land beneath faded from view; after 30 seconds, they were out of the atmosphere. In another half hour they'd be on the moon.

Out of the billowing smoke and dust of tweets and trivia, Gingrich had emerged.