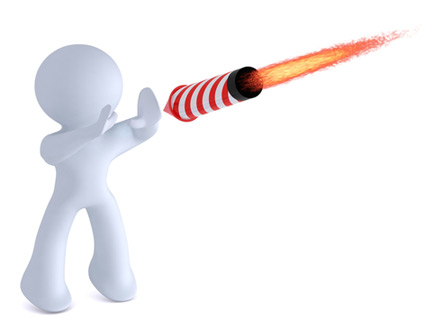 Fight disinformation:
Sign up
for the free
Mother Jones Daily
newsletter and follow the news that matters.
House Republicans want to protect America in the event Iran suddenly decides to start raining down rockets on Manhattan's Theatre District. Their ambitious solution? A missile shield for the East Coast—think of it as yet another big-budget sequel to "Star Wars."
Predictably, Democrats are eager to spoil their fun:
A new Republican plan to set up a missile defense site on the East Coast has attracted election-year fireworks, with Democrats accusing the GOP of pushing the idea to undercut President Obama's national-security credentials.

Democrats say Republicans are playing politics, but GOP members hit back saying the site is necessary to get ahead of the rising threat of Iran's missile development and to plug a gap in U.S. missile defenses…"This is a political move," said Rep. John Garamendi (D-Calif.), who intends to introduce an amendment Wednesday to strip the provision from the defense authorization bill. "Every time the election comes around, the Republicans run out a national security agenda."
Rep. Michael Turner (R-Ohio), the chairman of the House strategic forces subcommittee, counters thusly:
You cannot open a newspaper or turn on a TV…without seeing a story of the rising threat from Iran and North Korea to mainland United States. With these emerging threats it is inevitable that an East Coast site will be necessary in order to ensure we have the ability to lessen the threats from both Iran and North Korea.
House Republicans have been kicking around this idea for a few weeks now. It would require $100 million upfront to get the project off the ground, and would take about four years to build.
There are lots of reasons why this plan is punishingly ill-advised.
Yes, Iranian military and government officials have indeed said things about attacking the East Coast of the United States with their missiles and naval fleets. They've also said things about launching simultaneous Red Dawn-like ground offensives on American, European, Israeli, and Palestinian soil, and that George W. Bush brought down the World Trade Center. Basically, Iran says a lot of things, often with the same attachment to reality you'd get from a Kardashian wedding.
But if you take a moment to tune out Tehran's tough talk, you'll notice that their long-range missile program doesn't have any transatlantic mojo. Even with those loudly publicized test-fires in the Persian Gulf, Iran's missiles are a far cry away from being able to flatten Delaware in a single bound. "Israel is claiming that Iran is thisclose to developing a missile that can hit American soil…[b]ut missile and intelligence experts say Tehran has a long, technically complex road to travel before it can threaten Manhattan," Spencer Ackerman explained in Wired. "It's true that Tehran has a robust missile program…Iran is able to launch satellites into space, which is a key ICBM step (since any intercontinental missile is going to have to fly through space in order to attack a foe so far away). But none of that adds up to Iran getting a missile that can travel the 6,000 miles necessary for striking America any time soon."
(As for the missile threat from North Korea, well…this happened last month.)
Conservatives have been in love with national missile defense shields for decades. There are systems already on stand-by in Alaska and California, and additional proposals keep cropping up—even in light of all the evidence that national missile shields are doomed to fail.
"For Republicans, national missile defense is a litmus test of loyalty to the Reagan legacy, so they'll never give up the idea that they can get this missile shield," Lawrence Korb, a former US assistant secretary of defense under Ronald Reagan and senior fellow at the Center for American Progress, told Mother Jones. "It would be waste because national missile defense systems have never been proven to work. Every scientific study done says it doesn't work. So, even if there were a threat from Iran or North Korea, this [East Coast shield] wouldn't be able to stop it."
And for this level of assured effectiveness, Republicans are putting the East Coast shield's price tag somwhere in the neighborhood of $2 billion.
Fiscal conservatism FTW.