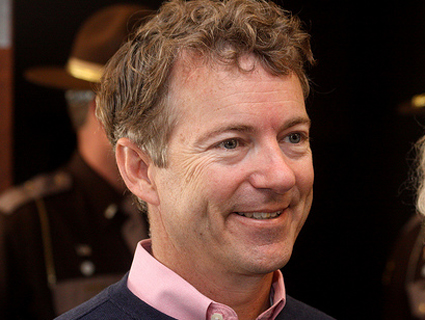 Fight disinformation:
Sign up
for the free
Mother Jones Daily
newsletter and follow the news that matters.
Fertilized eggs don't have much in common with flooded homes, but Sen. Rand Paul (R-Ky.) is holding up a flood insurance bill until the Senate votes to recognize the life begins at conception.
The reauthorization of the National Flood Insurance Program, which expires at the end of July and currently insures 5.6 million flood-prone properties, was expected to pass with little fuss. But then Paul signaled he wanted a vote on "when life begins."
Senate Majority Leader Harry Reid did let an unrelated vote on the contraception coverage mandate occur during debate of the highway bill a few months ago, but he's drawing the line here. Via Politico:
"I think some of this stuff is just – I have been very patient working with my Republican colleagues in allowing relevant amendments on issues, and sometimes we even do non-relevant amendments," Reid said. "But really, on flood insurance?"
"After all the work that's been put on this bill, this is ridiculous that somebody says 'I'm not going to let this bill go forward unless I have a vote on when life begins," Reid continued. "I am not going to do that, and I think I speak for the majority of senators."
Paul tells TPM that he's "just trying to get a vote for the people who elected me."
I'm going to go out on a limb here, but granting citizenship to zygotes probably won't provide much comfort to the many people who rely on government flood insurance, particularly now that hurricane season is getting started.