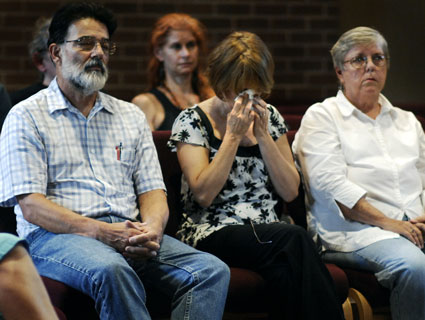 Fight disinformation:
Sign up
for the free
Mother Jones Daily
newsletter and follow the news that matters.
One of my initial thoughts when waking up last Friday to the grim news from a Colorado movie theater was, "This has happened again?" The mass murder was shocking, yet quite familiar. At Mother Jones we soon began to consider another question: How often has this actually happened? After a week of research and reporting, we had an answer: at least 62 times in the past 30 years, carried out with semi-automatic handguns and assault rifles—most of them obtained legally by the killers.
We say "at least" 62 times because, as we learned from talking with criminology experts and FBI officials, there is no official definition for "mass murderer," and detailed data on mass shootings appears to be nonexistent. A key metric we included in the criteria for our research and analysis (explained here) is that the killer must have taken the lives of at least four people during the attack. Since the 1980s, that has generally been a baseline for studying mass murder, according to Dr. James Alan Fox of Northeastern University, who has written multiple books on the subject. But as Fox agreed when we spoke this week, while that number seems to make some sense intuitively, there is nonetheless something coldly arbitrary about it. And if we had chosen a lower number of fatalities as a baseline, we'd be talking about many, many more cases than 62 over the last three decades. For the cases we did cover, you can examine the sobering details with the map, charts, and other data collected here.
One person who came across our investigation was William Dunklin of Knoxville, TN. After seeing our work, Dunklin wrote me an email that speaks to why we set out to build the database in the first place. Four years ago today, Dunklin was attending a Sunday morning program at his local church when a man entered and opened fire with a shotgun, fatally wounding two people and injuring six others. Dunklin, the church's former music director, was there in part to assist with a children's performance that morning of the show "Annie." One of the victims, a 61-year-old woman named Linda Kraeger, was seated about 10 feet in front of him. "I got a firsthand view of her bleeding to death on the floor," Dunklin told me in a follow-up email. (Kraeger died later that day.) Another image seared into his memory, he said, was one of the surviving victims having convulsions as he was carried away on a stretcher.
The violence stopped short of even worse carnage thanks to a little luck and the heroic intervention of several church goers among the crowd of about 200. According to Knoxville's police chief, the attacker's motive, as described in a four-page letter found in his car, was "hatred of the liberal movement" and of "liberals in general, as well as gays." The killer, Jim Adkisson, eventually plead guilty to murder charges and is serving life without parole.
Something Dunklin emphasized in his initial email, which I've published below with his permission, underscores a key point, one that I kept in mind as we spent days crunching data: If we want to begin to seriously evaluate the role of, say, mental illness or increasingly lax gun laws in these recurrent mass shootings (however broadly defined), first we need to contend with how often they happen. Have we? Here's what Dunklin had to say:
Mr. Follman:

I read your article about mass murders and spree killings in the U.S. I'm a survivor of one which you didn't list. On Sunday morning, July 27, 2008, at Tennessee Valley Unitarian Universalist Church, Knoxville Tennessee, Jim Adkisson walked into my church with 70 shotgun shells and opened fire. He killed 2 and injured 7. The only reason he stopped firing was that the gun jammed after the 3rd shot. He was tackled by retired history professor Dr. John Bohstedt.

Maybe the low death toll keeps this incident off the list.

However, I noticed something recently in the news which struck home. Discussion about the shooting in Aurora Colorado has included several people saying "we'll never forget." Yet here in Knoxville, I've been in more than one circumstance when the subject has come up, and someone will say "oh yeah, I do remember that" as if it's something that happened a long time ago in a galaxy far far away.

Maybe because I was there, my perspective is a little different. The fact that the anniversary is coming up may be why I'm thinking about it right now.

Anyway, just my opinion, the TVUUC incident might belong on your list.

Best wishes,

William Dunklin
Knoxville, Tennessee
In our further correspondence Dunklin noted that there are memorials around the building to commemorate what happened. "The church has preserved the shotgun blast pattern on one of the exit doors with a small plaque explaining what it is and why it's there," he said. "That particular door is not visible unless you're looking for it, so it's not too 'in your face.'"
In a building meant for religious practice and spiritual reflection that's an understandable approach. But when it comes to the broader problem of mass shootings, perhaps a little more "in your face" would now begin to make some sense.