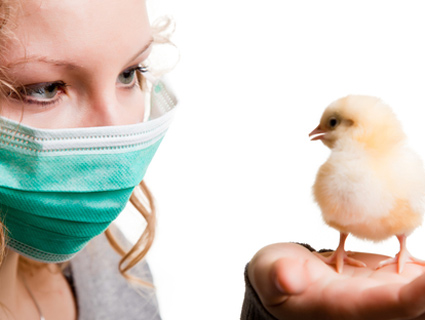 Fight disinformation:
Sign up
for the free
Mother Jones Daily
newsletter and follow the news that matters.
Five simple mutations in two genes were all it took for Ron Fouchier's team at the Erasmus Medical Centre in Rotterdam to develop a version of the H5N1 virus, commonly known as bird flu, that was airborne transmissible in mammals. In the wild, such a transformation requires more like 40 mutations, which would take years, numerous generations, and plenty of random chance.
In a controversial experiment, Fouchier's research team exposed ten generations of lab ferrets (many of which were euthanized after only a week) to a genetically modified strain of H5N1 that researchers had isolated from an infected human in Indonesia during the 2005 outbreak. (Ferrets have been used as human substitutes in flu research since 1933.) The goal of the experiment, their report states, was to investigate "whether A/H5N1 can aquire mutations that would increase the risk of mamalian transmission." The conclusion was an overwhelming yes—and around the world, the public reacted to the news by demanding an end to the research.
In January, 39 of the world's leading flu scientists announced a voluntary moratorium on avian flu transmission research. "We realize that governments and organizations around the world need time to find the best solutions for opportunities and challenges that stem from this work," the group said in a statement. The halt on research was supposed to last 60 days. Eight months later, it has yet to resume.
The "challenges" that stem from research like this are multifold. Initially, as Mother Jones senior editor Mike Mechanic reported, the concern was that publishing papers like Fouchier's (as well as a similar one by Yoshishiro Kawaoka of the University of Wisconisn that made H5N1 transmissible in just four mutations) would give any genetic scientist with a taste for bioterrorism the recipe for a global pandemic. H5N1 is deadly: It has wiped out flocks of poultry across Europe and Asia since the first outbreak in 1997, and New Science reports that since 2004, 565 people who were in close proximity to infected birds have caught the virus—and 331 of them have died. The number of human casualities is relatively low because H5N1 was a virus that could only be contracted through contact with infected birds, and would not spread from human to human.
That is, until Fouchier and Kawaoka's teams created strains that would.
That part of the discussion is a moot point now: Kawaoka's paper was published in Nature in May, and Fouchier's followed a month later in Science.
But last Monday, Dr. Anthony Fauci, the director of the National Institute of Allergy and Infectuous Disease, urged a meeting of flu researchers in New York that scientists doing federally-funded experiments should continue the moratorium, NPR reported, at least until a discussion of the potential risks could be held in a public forum. Fauci also spent half an hour explaining the need for a government policy on "dual-use research of concern," which basically means research whose results could be used either for good (developing vaccines) or evil (bioterrorism). Fouchier fired back that the original conditions for the moratorium had already been met—and that not all flu researchers who signed the moratorium were dependent on US funding.
While Fouchier and Kawaoka's experiments were both funded by the US National Institute of Health, the US is the only government whose officials have advocated for a policy regulating scientific research. Whether or not countries in Europe and Asia, where bird flu outbreaks are most frequent, will push for similar regulations on government-funded research remains to be seen.
If the contagious strains escape from labs, we would have a pandemic on our hands that could eclipse the global swine flu (H1N1) pandemic of 2009.
The primary concern at this point is that if the contagious genetically modified H5N1 strains escape from labs, we would have a pandemic on our hands that would look a lot like—or eclipse—the global swine flu (H1N1) pandemic of 2009 that killed over a quarter of a million people. (And speaking of swine flu: the Center for Disease Control just issued a warning yesterday that a new strain of it was on the rise.)
Scientists are quick to point out that the H5N1 experiments were done in top-notch labratories with state-of-the-art security systems. It's also worth noting that while Kawaoak and Fouchier's ferrets became infected with bird flu via airborne transmission, none of them died, suggesting that the genetic modifications that made the virus airborne also softened its mortality rate.
H5N1 is by no means the only high-risk strain of bird flu—and some of the others aren't isolated to labs. Two weeks ago, multiple news sources reported that the deaths of 162 seals found off the New England coast in 2011 were caused by a new strain of bird flu that a team at Columbia University's Mailman School of Public Health identified as H3N8.
Further investigation would open the door to vaccinations and other preventative measures, scientists hope. But safety concerns aren't going away. "You will unquestionably lose the battle for public opinion on this one if you ignore these concerns. You can't ignore them," Fauci said, according to reporting by NPR. "The flu scientific community can no longer be the only players in the discussion of whether the experiments should be done."