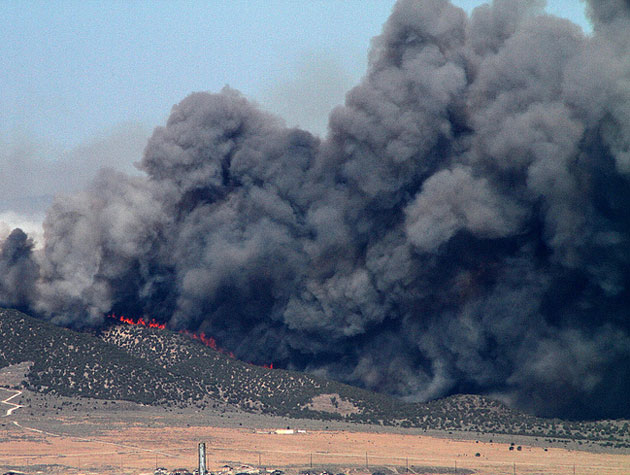 Fight disinformation:
Sign up
for the free
Mother Jones Daily
newsletter and follow the news that matters.
The smoke in our bedroom was so strong I thought the house might be on fire. As it turned out, the house wasn't burning, but Utah was. Three new wildfires had started Saturday afternoon about 10 miles from the ski resort town of Park City, where my parents live and I've been staying for the past week. The fires torched more than 500 acres of land around the nearby Jordanelle Reservoir and some nearby Forest Service land, sending plumes of acrid smoke across the valley and eventually into my window. Campers in the Jordanelle state park had to be evacuated, as did vacation home residents and guests at the ritzy St. Regis Hotel in Deer Valley, the playground of the ultra-rich where Mitt Romney once had a house.
The cause of one of the fires is still being determined, but KSL News reported over the weekend that target shooters had been seen in the vicinity of one of them, and a target shooter admitted to starting another one of the fires. Guns may not kill people, as the argument goes, but apparently they do start wildfires.
Indeed, target shooters are becoming something of a scourge across the rain-starved West, and especially in Utah, where humans have caused more than 500 wildfires this summer. At least 22 of those have been set by people shooting targets, tin cans, and what-not off rocks in the scrub brush, where sparks from the bullets hitting rocks have collided with bone-dry brush and caused massive fires. One large fire blamed on target shooters squeezing off rounds near the town dump in Saratoga Springs, home of tea party congressional candidate Mia Love, caused close to 9,000 people to be evacuated and forced Love to miss an event with soon-to-be vice presidential candidate Paul Ryan, who'd been raising money on her behalf.
With the state in the midst of a serious drought, officials have been able to clamp down somewhat on other fire hazards this summer, namely fireworks, but they've had a hard time doing anything about the gun enthusiasts, of which there are many. The Daily Beast recently dubbed Utah the second most-armed state in the country (though state officials dispute this). Laws passed in 1999 and 2004 bar state and local officials from imposing any restrictions on firearms during an emergency unless approved by the state Legislature. Such laws have been gathering steam across the country after reports from New Orleans during Hurricane Katrina that the local police had seized guns from residents during the state of emergency there. Virginia, for instance, just passed a version of the NRA-drafted bill that bans the state from prohibiting residents from carrying or transporting weapons in an emergency. More than 20 states have similar laws in place and the NRA is pushing for more.
In Utah, such "emergency powers" laws have made it difficult for the state to act during fire season. Earlier this summer, Utah Gov. Gary Herbert was reduced to using his bully pulpit to plead with shooters to give up their "foolish behavior," complaining that some of the people he represents were lacking in common sense. Finally, in early July, Herbert found a workaround by digging up an old state law that seemed to give the state forester the power to ban target shooting in areas of the state that were both unincorporated (much of the state park land) and at high risk for fires. The ban went into effect July 11. Last week, the federal Bureau of Land Management also imposed a ban on target shooting in some areas west of Utah Lake, near Love's stomping grounds. The BLM claimed that target shooters' bullets were getting too close to cars on the highway and residential areas, but given the timing the fire hazard was likely part of the calculation.
As much as Utahns love their guns, some may begin to recognize that some reasonable regulation might be in order—or at least those who don't want to see their luxury resort homes burn to the ground. Wildfires this year have already cost the state $50 million, and the season still has a few months to go. But as the fires near Park City may indicate, the modest new rules in place probably aren't enough to combat state gun owners' common sense problem.