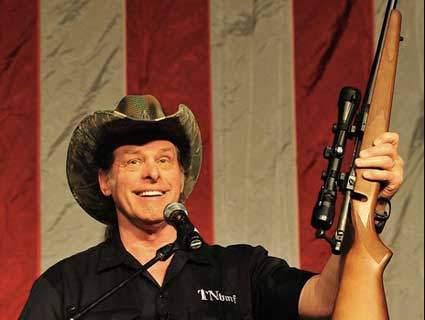 Fight disinformation:
Sign up
for the free
Mother Jones Daily
newsletter and follow the news that matters.
Music and politics: A classic combination as reactive as baking soda and vinegar. But like a seventh grader's science fair project, the results are often unoriginal and underwhelming. And while Bono never met a humanitarian crisis he couldn't sweepingly lyricize, there remain too few U2 songs to donate to everyone's off-center activism.
So to satisfy your niche-gripe, we've dug up 10 songs that span the political pet-issue gamut. Hate meat? Love guns? Anti-vaccines? Pro-oil? Whatever it is you're for or against, we've got an anthem for your rallying cry.
1. Aaron Tippin, "Drill Here, Drill Now": If the price of fuel leaves you balking at the pump, country singer Aaron Tippin has a solution: Collude with Newt Gingrich's Big-Oil-pandering political operative and drill, baby, drill!
2. Third Eye Blind, "If There Ever Was A Time": Turns out, cashing in on the most infectious hook of the 1990s doesn't nullify your 99% street cred. In this syrupy pop-rock jam, front man Stephan Jenkins extols the efforts of Occupy Wall Street, and proves he hasn't lost his knack for irresistible riffs.
3. Isaac Sloan, "We Want the Truth": The Wikileaks album debuted in June and Isaac Sloan, a small-time folk rocker from Utah, had the honor of penning this over-the-top, acoustic ode to the whistleblowing website's fearless leader, Julian Assange. 
4. Ted Nugent, "I Am the NRA": Uncle Ted's favorite gun is the 10mm STI "Perfect 10" tactical pistol with a high-capacity, 19-round magazine. What's yours? Get "cock locked and ready to rock" with this brazen, guns-a-blazin' country-western anthem about freedom, liberty, and the NRA.
5. The Refusers, "First Do No Harm": The Seattle-based band the Refusers makes anti-vaccine music that "defies government propaganda," which is certainly one way of putting it. Celebrate freedom from vaccines and liberation from proven medical science with their foot-tappin' scare-tactics.
6. The Smiths, "Meat is Murder": Got beef with beef? Tell your carnivorous friends how you really feel about the succulent slab of sirloin oozing blood and death on their plates with Morrissey's PETA-approved ballad.
7. First Love, "Game On": As legend has it, Haley and Camille Harris, two homeschooled daughters of an Oklahoma pastor, wrote Rick Santorum this sweeter-than-pie, divinely-inspired campaign jingle in a matter of hours—and just in time for Super Tuesday. Regardless of your opinion on Santorum, First Love, as Mediaite notes, "deftly manages to rhyme 'again' with 'Ronald Reagan.'"
8. Aimee Allen, "Ron Paul Revolution": Rick Santorum wasn't the only GOP fringe candidate to inspire an excessively optimistic campaign track during a primary season. Ron Paul's legion of followers have written enough songs, like this power-pop battle cry by Aimee Allen, to pump up the Texas congressman for at least a dozen more failed presidential bids.
9. Steve Taylor, "I Blew Up the Clinic Real Good": '80s Christian rocker Steve Taylor got a lot of flack from mainstream gospel-music contemporaries for his satiric swings at religious hypocrites like sleazy TV evangelicals and Bob Jones University (for barring interracial dating among its students). In this quirky and cynical tune, Taylor takes aim at anti-abortion extremists who'd committ acts of terrorism for the pro-life cause; toward the end of the song, he rails that "the ends don't justify the means anytime." 
10. Rankin' Taxi, "You Can't See It, And You Can't Smell It Either": In response to the hemorrhaging crisis at the Fukushima Daiichi nuclear power plant, the worst nuclear disaster since Chernobyl, dancehall reggae artist Rankin' Taxi, along with a slew of other angry anti-nuke musicians, has taken to the Interwebs to decry nuclear power and its radiactive footprint in this darkly mirthful beat.
Click here for more Music Monday features from Mother Jones.