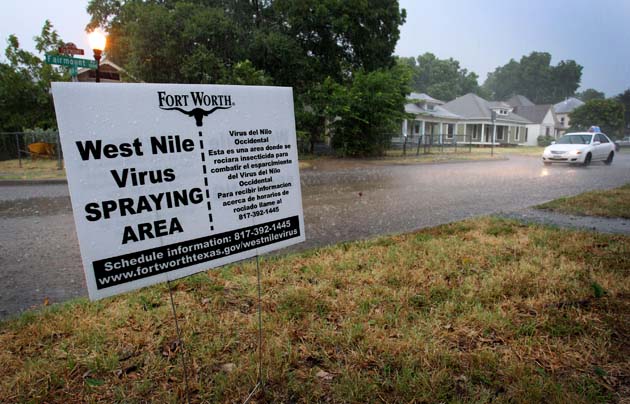 Fight disinformation:
Sign up
for the free
Mother Jones Daily
newsletter and follow the news that matters.
This story originally appeared in The Guardian.
Aerial spraying to combat the West Nile virus will continue Friday night across north Texas despite the concerns of residents worried about potential health risks posed by the insecticide.
Dallas is the center of the worst West Nile outbreak in the US this year, which prompted local officials to declare a state of emergency on Wednesday and dispatch two airplanes to spray the city and surrounding areas last night.
The planes left Dallas' Executive Airport as planned at 10pm last night but were only able to spray about 52,000 acres, just over half their target, because of rain.
"We'll look at our weather patterns tonight and see if we can add to the remaining block. We have two planes coming in today. If we have good weather, we can get 124,000 acres every three-and-a-half hours with two planes, so four planes would give us right at a quarter of a million acres. So, weather permitting, we'll try to get that," Dallas County judge Clay Jenkins told WFAA.com.
The area could be sprayed again in the coming days once the effectiveness of this week's efforts to reduce the mosquito population have been assessed.
Confirmed West Nile virus deaths in Dallas and surrounding counties have now reached 14, with over 230 cases. The Texas Department of State Health Services has recorded 509 cases and 20 deaths across Texas, compared with two fatalities last year.
Texas is by far the worst-hit state, with more than half of all US cases, though news media today suggested that the virus is gaining a foothold in the Chicago region. At least 26 people have died across the nation, with the Centers for Disease Control and Prevention (CDC) reporting that it was aware of 693 human infections through the second week in August. The CDC said that six people have died in Louisiana.
West Nile was discovered in the US in 1999. Instances of infection typically peak from late August to early September each year. Scientists believe it is transmitted to humans when mosquitoes bite infected birds, then people.
About 80% of humans do not become ill after a bite, but around one in five may develop flu-like symptoms. Less than 1% of victims develop severe infections that can cause neurological diseases.
Some counties adjacent to the city of Dallas have opted out of the aerial spraying, though many are using ground-based pesticides.
Cities such as New York, Houston and Sacramento have previously used aerial spraying. Houston, Texas' largest city, has done so every year since 2002. However, Dallas has not employed the tactic since 1966, which has helped breed local anxiety about the safety of the method.
Council members and residents have expressed doubts but the mayor, Mike Rawlings, insisted at a media briefing on Thursday that the Duet pesticide was safe. However, the mayor did concede this week that the pesticide can be harmful to useful insects, such as honey bees.
It is a synthetic pyrethroid which imitates natural pesticides found in some chrysanthemums. "There's a lot of sentiment that people don't want this, and there's a fear of the unknown," he said. You have the science, the CDC and EPA and all of these cities across the United States that say this is OK."
Jenny Land, a Dallas resident who has previously made recommendations to the city on mosquito control, strongly disagrees. "I think [aerial spraying] is a political, fear-based statement to say to people, 'Look, we're doing something,'" she told the Guardian.
Duet has been approved by the Environmental Protection Agency for mosquito control but the product label says it is toxic to fish and other aquatic organisms.
"They're egregiously saying it's safe but there are known health risks with every pesticide. When you spray anything off the back of an airplane you can't be sure where it lands," Land said. "They have a moral obligation to let citizens know what the risks are."
Dr David Lakey, the Texas health commissioner, told reporters this week that the risk posed by the chemicals was negligible compared with the threat of a West Nile epidemic and that the widespread use of aerial spraying in other large urban areas for many years indicated the method was not dangerous.
Still, a Texas department of state health services statement recommends precautions "for people concerned about exposure during aerial spraying" that include staying indoors, keeping pets inside, washing exposed skin or clothes with soap and water, covering small fish ponds and rinsing home-grown fruits and vegetables with water.
Land said that she has temporarily relocated to Austin because she has an immune system disorder and fears the spraying could worsen her condition. "I have a close family friend scheduled to come into Dallas for medical treatment who's on 24-hour oxygen," she said. "The pulmonologist said to her, 'Do not come to Dallas, do not take the risk.'"
The company conducting the Dallas aerial treatment, Clarke, was fined $1m by state and federal authorities in 2001 for using untrained and unsupervised workers while spraying New York.
A pressure group, Dallas, Stop The Spray! has collected more than 1,800 signatures on a petition that calls for "the city to stop the ineffective and dangerous mosquito spraying and instead, channel equivalent funds and efforts to implement safer and proven practices for mosquito prevention and eradication."
According to the Dallas Observer, Jenkins said Friday afternoon that no hospitals in the region reported any admissions related to West Nile on Thursday night, nor was there evidence of any sudden increases in asthma attacks following the spraying. He said the pesticide was "an incredible risk to West Nile-bearing mosquitoes… but not an unreasonable risk to you or your family."
He added that any legal attempts to halt the spraying, such as the filing of a court injunction, would not succeed given the sweeping powers afforded to the mayor while the city is under a state of emergency.