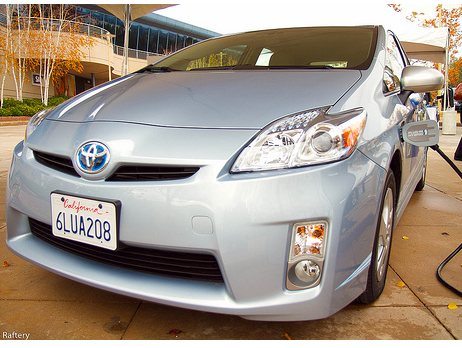 Fight disinformation:
Sign up
for the free
Mother Jones Daily
newsletter and follow the news that matters.
I've been looking to buy a car for more than a year now, an adventure I've chronicled here before. I still don't have one, largely because it's really hard to find something that meets both my high miles-per-gallon and low cost standards. But thanks to a new rule that the Obama administration finalized on Tuesday, an ideal car for me might be available … in 2025.
The EPA and the Department of Transportation announced that they had finalized rules that will require new cars and light trucks to hit a fleet-wide average of 54.5 miles per gallon by 2025. The administration estimates that the increase will eliminate the need for 12 billion barrels of oil and save drivers $1.7 trillion in gas costs.
Enviros cheered the final rule, even though just a few months ago they were begging the administration to raise the number to 60 miles per gallon. How high to set the target has been a long-standing debate between automakers, enviros, and the Obama administration.
The new rules are pretty tough, particularly when you look at what's on the market right now. The best hybrids currently available are only getting in the 40s when it comes to miles-per-gallon. There are electric cars that get 99 miles-per-gallon-equivalent right now, but those are still pretty rare and expensive, not to mention hard to figure out where to charge them. Meanwhile, there are a lot of cars that are waaaaay down at the bottom when it comes to fuel economy, getting 14 miles-to-the-gallon. The new rules are significant because they will bring the numbers up on the top end, but on the bottom end as well.
These latest rules follow the previous requirement that automakers reach 35.5 miles per gallon by 2016. That target was the first increase in fuel efficiency since 1990, so it was long overdue. It just might help us catch up with our foreign colleagues, as the European Union already averages 43.3 miles per gallon and Japan averages 42.6.