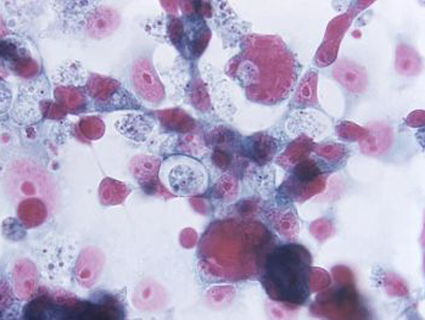 If hantavirus wasn't enough to freak you out, the Associated Press reported on Tuesday that the autopsy report for a 30-year-old man in southwestern Indiana indicates that a brain-eating amoeba was responsible for his death. If confirmed by the Centers for Disease Control and Prevention, this would be the fourth death this year from primary amebic meningoencephalitis, which is caused by a parasite known as Naegleria fowleri. 
Naegleria fowleri is a single-celled living organism that lives in warm, fresh water, according to the CDC. (It's not actually an amoeba, despite the colloquial term for it.) It can travel up your nose while swimming in a lake or stream, multiply, and proceed to eat your brain. It has a 99 percent fatality rate, since only one person in the United States has ever been documented surviving the infection. (There have also been several incidents in the US in recent years of people getting the parasite from using a neti pot.) 
Still, it's a rare occurrence—between 2002 and 2011, there were only 32 infections in the US. Four deaths in a year is well within the recent average.
But as the CDC points out, the organism "grows best at higher temperatures." That might be a good reason to worry about whether higher temperatures caused by climate change will make it worse, as a CDC scientist warned a few years ago:
"This is definitely something we need to track," said Michael Beach, a specialist in recreational waterborne illnesses for the Centers for Disease Control and Prevention.
"This is a heat-loving amoeba. As water temperatures go up, it does better," Beach said. "In future decades, as temperatures rise, we'd expect to see more cases."
The CDC notes that "assessing the potential for climate-related changes to the geographical range of the organism and associated infections" is one of the areas the agency is working on.