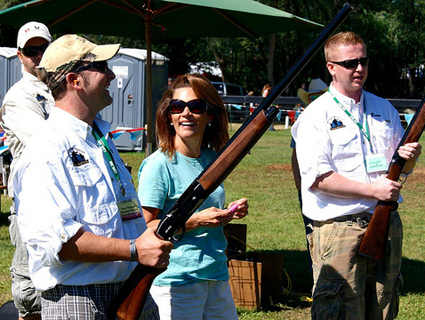 Fight disinformation:
Sign up
for the free
Mother Jones Daily
newsletter and follow the news that matters.
Rep. Michele Bachmann is in trouble. Despite the fact that her newly redrawn Minnesota congressional district is even more conservative than it was when she was re-elected by 12 points two years ago, a recent internal poll shows the tea party icon leading Democratic hotel magnate Jim Graves by just two points. With that in mind, she's on the airwaves with her first television and radio ads of the cycle. The television spot is an extended dig at Graves' support for the 2009 American Recovery and Reinvestment Act. As the narrator puts it, "Big spendin' Jim supported the wasteful, trillion-dollar stimulus!"
The stimulus wasn't $1 trillion as the ad suggests; it was $831 billion. But that's not what's interesting. In a radio ad, Bachmann takes a much different approach. As Dump Bachmann points out, most of the ad's 60 seconds is spent discussing all of the awesome things that have been built in her district because of federal funding Bachmann helped secure. The kicker: Bachmann sought hundreds of millions of dollars in stimulus funding for one of the projects she touts in her ad, and another project was completed thanks to an ARRA grant.
"Congressman Bachmann helped re-open the St. Cloud airport," one narrator says. "Working together with local leaders, Michele helped save the airport and keep our area open for business and commerce." The St. Cloud airport, which had been shuttered for a few years after a major carrier left, did reopen for commercial flights in 2012. But it had some help from the American Recovery and Reinvestment Act that Bachmann voted against and knocks Graves for supporting. As the Freedom Foundation of Minnesota, a conservative group, noted, "St. Cloud received $750,000 in federal stimulus funding to assist with a portion of the renovation…" With Bachmann's help, it received another $750,000 through a Small Community Air Service Development Program grant—this despite being panned as wasteful by conservatives in Bachmann's own state.
Bachmann's signature legislative accomplishment, which is likewise touted in the ad, is the congressional authorization of a new bridge connecting her hometown of Stillwater to Houlton, Wisconsin, pop. 386. (Critics have compared the proposed bridge to the infamous "Bridge to Nowhere," noting that Stillwater and Houlton are already connected by a bridge, and there's an interstate bridge 10 minutes south.) As the ad puts it, "Michele worked with both parties to cut Washington's red tape to build the new St. Croix bridge. Once built, Michele will have helped every person using the bridge to get to work and to school and to get home." Bachmann sought $300 million in federal stimulus funding for the the new bridge, which has a $700 million price tag. The project was one of six projects Bachmann wrote to Transportation Secretary Ray LaHood to request funding for (her request was denied).
But lest you think Bachmann has undergone some sort of miracle transformation, here's an excerpt from a fundraising email she just blasted out:
In 10 days, we must close our financial books and report our fundraising numbers and, unfortunately, we are still short of our fundraising goals by more than $376,000. This is a deficit that we MUST overcome—in the face of senseless attacks from a ruthless opponent, we can't afford to leave any stone unturned.
Senseless!