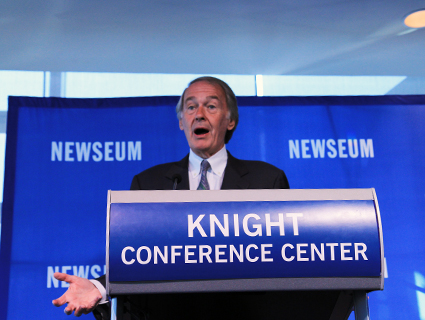 In these first days of autumn, temperatures are finally starting to break after the country's third-hottest summer on record. But meanwhile, most of the country is still locked in terrible drought, rebuilding after wildfires, or drying out after Hurricane Issac. And after endless calls from scientists and signs that the public are shifting on climate change in response to extreme weather, climate-minded Democrats are seeing an opportunity to lampoon House Republicans as climate skeptics in the runup to November's general election.
Reps. Ed Markey (D-Mass.) and Henry Waxman (D-Calif.), the legislators behind Congress' first (and failed) big stab at carbon pricing legislation, yesterday released a study that lays out the case for why global warming is a predictor of more severe and frequent weather disasters. A press release for the study slammed Republicans as responding to extreme weather by taking steps to "deny science and block action," indicating that House Democrats have embraced climate change as wedge issue.
"We wanted to show that [Mitt] Romney is an extremist when it comes to extreme weather," Markey told reporters.
"We wanted to show that [Mitt] Romney is an extremist when it comes to extreme weather," Markey told reporters after addressing a Union of Concerned Scientists symposium in Washington on the need to improve public access to government research.
There's little that's groundbreaking in the study, which is built largely around pre-existing data from the National Oceanic and Atmospheric Administration. But after this summer's freakish weather, and with one presidential candidate for whom climate change is a punchline, Markey said he is seeking to gain an acknowledgement in Congress that the weather we now see as extreme is likely to become normal. He's tried to make this case once before, in the short-lived Select Committee on Energy Independence and Global Warming, which was killed by House Republicans in 2010.
Despite the overtly political nature of the study's debut, Markey said his goal is to reprioritize science over politics in the Congressional debate about climate change.
"People know that something is not quite right about the weather," he said. "Science is helping the public connect the dots between global warming and extreme weather."
For a public—and their elected officials—with notoriously short attention spans, there can be one good thing about extreme weather: In August, a Yale poll found that heat waves, droughts, floods, and the like help people come to grips with the realities of climate change. That message can even hit home for climate skeptics on the right, Columbia University Earth Institute Director Jeffery Sachs said on Monday at a Climate Week NYC event.
"If Romney wins, [climate change] won't come back until 2016, except for whatever disasters we see before then," Sachs said.
Jeff Sharp, a spokesman for Democrats in the House Natural Resources Committee, of which Markey is the ranking member, said the goal of the report is to keep the issue on the table at a time when it is largely ignored, particularly by Republicans. A spokesperson for Republican committee member Doug Lamborn (R-Colo.) did not return a request for comment.
Extreme weather "is something that Congress used to work on," Sharp said. "We hope to get Congress focused on it again."