President Obama chose not to mention Mitt Romney's 47 percent remarks in the presidential debate last week, but the leaked video appears to be picking up steam regardless. Not only are outside democratic groups reviving the narrative in radio ads, but the Obama campaign is launching another TV ad campaign based on the fundraiser footage in crucial swing states. Here's our full roundup of this week's 47 percent news:
MItt romney fundraisers, post-47 percent
Lynn Sweet of The Chicago Sun-Times published this gem of a photo showing that a Sunday Romney fundraiser near Chicago banned audio and video recordings. Wonder why?
New Obama 47 Percent Ad
The Obama campaign released this advertisement, titled "Earned," on Tuesday and plans to air in Florida, Ohio, and Virginia. It features Romney's remarks with a reminder to voters that he could take away benefits like Medicare. As you may recall, this isn't the first time the Obama campaign has used the 47 percent message in a campaign ad.
democracy corps breaks it down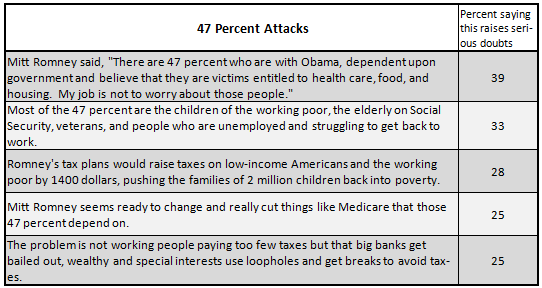 Democracy Corps, an independent nonprofit, has joined with the Women Vote Action Fund to crunch numbers on the effect the 47 percent video has had on single women, people of color, and young people: a demographic they call the "Rising American Electorate." According to their research:
Voters were asked which of a series of attacks raised the most doubts in their mind about Mitt Romney. The strongest—Mitt Romney's 47 percent quote—raised serious doubts for four in ten voters and the fact that many of the so-called '47 percent' are veterans, seniors, and the children of the working poor raised serious doubts for a third.
Big lou really breaks it down
We don't know exactly where this 47 percent remix came from (it has different lyrics than the original "We are Fighters" song with Big Lou and Bruno Mars), but it appears to have been posted on YouTube by the real Big Lou. In any case, it's cool and you can make it your ring tone, so shhh don't ask questions.