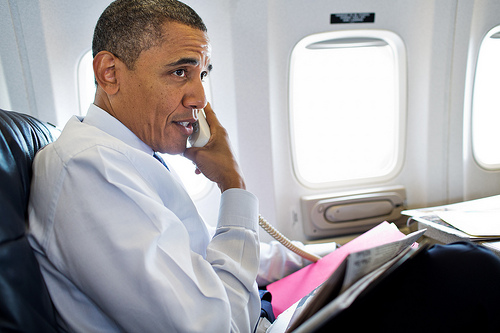 Fight disinformation:
Sign up
for the free
Mother Jones Daily
newsletter and follow the news that matters.
With his latest fundraising haul, Barack Obama will almost certainly set a new campaign finance milestone, becoming America's first $1 billion candidate.
By the end of August, Obama's campaign and affiliated Democratic groups had raised $762 million for his reelection effort, according to the Campaign Finance Institute. Then, on Saturday morning, Obama campaign manager Jim Messina announced that the president and the groups supporting him had raked in a huge amount of money in September: $181 million, the biggest one-month haul of the presidential election. That sum pushes the overall fundraising total for Obama's reelection machine—his campaign and the Democratic affiliates backing him—well past $900 million. Even a modest fundraising month in October means Obama and the Democrats will reach the $1 billion mark.
Obama's September total beat his August haul by $67 million, and it easily outpaces any of the monthly fundraising totals recorded by Mitt Romney's campaign and the affiliated GOP groups backing him. The Obama campaign tweeted on Saturday that 1,825,813 donors gave money to reelect Obama last month; 567,044 of those were first-time donors. The average donation in September, Messina said, was $53. "The people and the stories behind these numbers are what make this grass-roots organization so powerful," Messina wrote in an e-mail to supporters. Overall, the Obama campaign said more than 10 million people have donated to reelect the president.
Back in 2010, anonymous Democrats and GOP strategists suggested that Obama could be the first $1 billion candidate. Campaign staffers quickly shot down that idea; they said they hoped to raise "north of $750 million," on par with Obama's 2008 total. Now, however, the billion-dollar mark is very much within reach.
Obama is also certain to outraise Romney and directly affiliated Republican groups. Through August, Romney's overall reelection effort had raised $669 million, according to the Campaign Finance Institute. In all, Romney's reelection effort could raise as much as $900 million this election cycle. That would beat the campaign's own bullish goal of $800 billion.
These totals, to be clear, don't include the super-PACs and dark-money nonprofits spending heavily in 2012. Karl Rove has said his American Crossroads super-PAC and Crossroads GPS nonprofit will spend $200 million to elect Romney. Charles and David Koch and their donor network are expected to marshal as much as $400 million to defeat Obama and elect more Republicans to the US House and Senate. On the Democratic side, the pro-Obama super-PAC Priorities USA Action hopes to spend between $75 million and $100 million to reelect the president.
This isn't the first super September for Obama. In September 2008, his campaign raised a record $191 million. That cash advantage proved crucial in the final weeks of the 2008 race, when Obama blitzed the airwaves with ads and pulled ahead of Republican candidate John McCain.
Obama has set a blistering fundraising pace during the 2012 election cycle. On September 28, Obama attended his 147th fundraiser of 2012, and his 214th since officially launching his reelection campaign in April 2011, according to CBS News' Mark Knoller. In other words, Obama has, on average, attended one fundraiser every 61 hours for the last 18 months. (Mitt Romney has raised money at a similarly feverish clip.)
Though his campaign has emphasized the outpouring of support from small donors, Obama has relied heavily on deep-pocketed contributors as much as grassroots supporters chipping in $30 or $40. Through June, the Obama campaign had 638 super-fundraisers, or "bundlers," who'd collected donations ranging from $50,000 to millions of dollars for the campaign. Bundlers include Vogue editor Anna Wintour, Hollywood executive Jeff Katzenberg, and actress Eva Longoria. According to the New York Times, bundlers had raised or given more than $200 million for Obama's reelection effort through May.
The road to $1 billion for Obama and the Democrats, then, is paved both with small donations and big checks brought in by some of America's biggest celebrities and business moguls. Obama wouldn't be the most successful fundraiser in history without them.