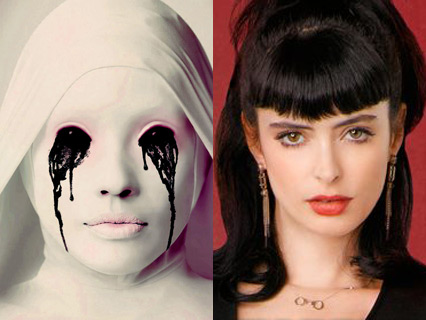 Fight disinformation:
Sign up
for the free
Mother Jones Daily
newsletter and follow the news that matters.
On this week's episode of A Movie & An Argument, With Alyssa Rosenberg & Asawin Suebsaeng, we discuss (scroll down for audio):
The new season of American Horror Story, which revolves around a trash-talking, torture-happy nun who wears red lingerie. Also, in the first scene of season 2, Maroon 5's lead singer and Channing Tatum's wife have sex in an abandoned insane asylum, and then get attacked by an ogre, so there's that. (Alyssa has a write-up of the first two episodes here.)
The second season of the ABC sitcom Don't Trust the Bitch in Apartment 23, which premieres on Tuesday, October 23.
Alex Cross, a serial killer movie starring Tyler Perry as a homicide detective. It gets a wide release on Friday, October 19.
Listen here:
Each week, I'll be sitting down to chat with ThinkProgress critic Alyssa Rosenberg (who also does killer work at The Atlantic and Slate's "Double X"). We'll talk, argue, and laugh about the latest movies, television shows, and pop-cultural nonsense—with some politics thrown in just for the hell of it.
Alyssa describes herself as being "equally devoted to the Star Wars expanded universe and Barbara Stanwyck, to Better Off Ted and Deadwood." I (everyone calls me Swin) am a devoted lover of low-brow dark humor, Yuengling, and movies with high body counts. I hope you enjoyed this episode, and tune in during the weeks to come.
We'll be featuring guests on the program, and also taking listeners' questions, so feel free to Tweet them at me here, and we'll see if we can get to them during a show.
Thank you for listening!
Click here for more movie and TV features from Mother Jones. To read more of Asawin's reviews, click here.
To find more episodes of this podcast in the iTunes store, click here.

To check out Alyssa's Bloggingheads show, click here.