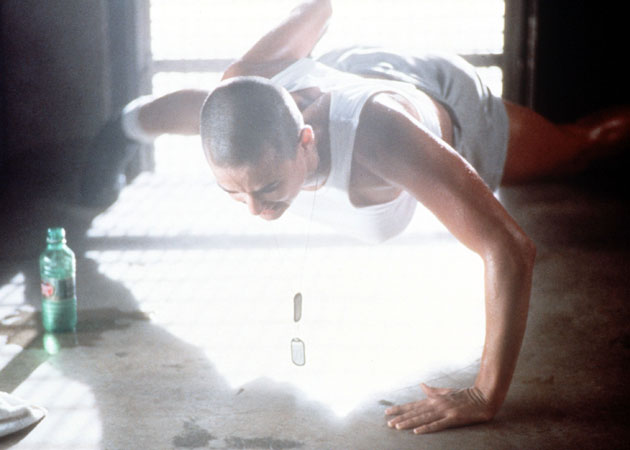 Fight disinformation:
Sign up
for the free
Mother Jones Daily
newsletter and follow the news that matters.
Women could be poised to breach the final frontier of military macho. For the first time yesterday, women were included in a Marine Corps infantry officer training, a grueling three-month course at Quantico, Virginia, where Marines are schooled in making command decisions under extreme stress.
Women have fought and died in every American war, and more than 280,000 of them have deployed to Iraq and Afghanistan, but they are still barred from the infantry. In February, as my colleague Adam Weinstein reported, the Department of Defense urged Congress to allow women to serve in more combat-related jobs, and has since then opened up new jobs for women closer to the front lines. This training program is part of a Pentagon experiment to develop "gender-neutral physical standards," and collect data on whether women's bodies can actually handle this kind of Rambo job.
According to USA Today, the training program involves being dropped into the woods pre-dawn with scant instructions and some 70 pounds of gear. They do he-man feats and march for miles, never stopping to rest all day. A quarter of men drop out or don't pass.
Predictably, some think even letting women on the training program is taking gender equality a step too far. After all, as Maj. Scott Cuomo, director of the Infantry Officer Course, told USA Today, "Sometimes… Marines are fighting with their bare hands against the enemy." Grrrrr! Others worry that allowing ladies in could water down standards and makes us bad-guy targets.
But "[t]he women are expected to do everything that the men do," Marine Col. Todd Desgrosseilliers, who commands the organization responsible for basic Marine officer and infantry training, told USA Today. "We haven't changed anything."
In the face of discrimination and assault, women have been slowly moving their way into the ranks in recent years, now serving on submarine crews, living at forward bases, and flying combat aircraft. But females make up only about seven percent of the Marines, the most male-dominated of the armed services. (Women comprise 14 percent of active duty forces as a whole.)
For his part, the Commandant of the Marine Corps, Gen. James F. Amos, has lots of faith in the future of women in the armed forces. "I'm not one bit afraid of the results of this," he told the New York Times in April. "I'm very bullish on women."