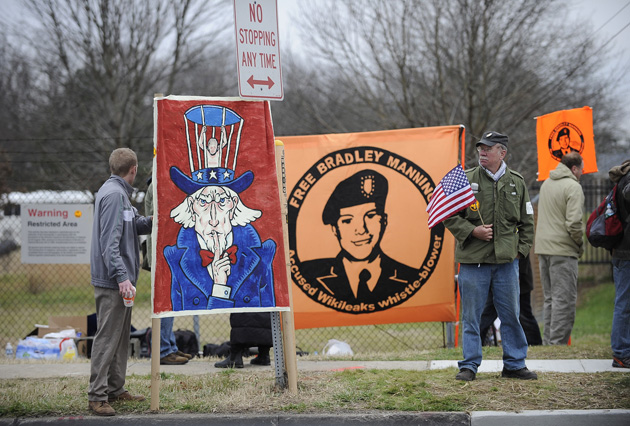 Fight disinformation:
Sign up
for the free
Mother Jones Daily
newsletter and follow the news that matters.
UPDATE 5, Wednesday, August 21: Pfc. Bradley Manning was sentenced to 35 years in prison for giving hundreds of thousands of classified documents to WikiLeaks. He will be dishonorably discharged from the Army but receive a credit of 1,293 days for the time he has already served awaiting trial and sentencing, and be eligible for parole after serving one-third of his sentence. (In January, the trial's judge, Col. Denise Lind, shaved another 112 days off Manning's potential sentence because of the "more rigorous than necessary" treatment he faced in solitary confinement.) Prosecutors had asked that he get at least 60 years, and he faced up to 90.
UPDATE 4, Tuesday, July 30: Pfc. Bradley Manning was convicted of most of the charges brought against him, including five violations of the Espionage Act. However, Manning was acquitted of the most serious charge, aiding the enemy. Manning faces a potential sentence of as many as 136 years in military prison. The sentencing portion of the trial will begin Wednesday at 9:30 a.m. EDT. The prosecution is expected to seek the maximum sentence. "The government is saying, keep your reservations and morals to yourself or end up like Bradley," said Robert Caruso, a former assistant command security manager in the Navy, to Mother Jones in a statement. "If the Obama administration was serious about stopping leaks it could kick its insider threat programs into overdrive, and bring them under the control of [newly confirmed FBI Director] James Comey or whoever else Obama trusts to lead such an effort."
UPDATE 3, Monday, July 29: Judge Denise Lind is expected to announce her verdict in the case of United States v. Bradley Manning tomorrow (Tuesday, July 30) at 1 p.m. EDT. She will decide whether Pfc. Bradley Manning is guilty of aiding the enemy, the most serious charge he faces, which is punishable by life in prison without parole. ?In addition, Judge Lind is expected to rule on the remaining 21 charges Manning is contesting. The government previously accepted Manning's guilty plea to a lesser version of one charge. The sentencing phase of the trial is expected to begin Wednesday. Courthouse News Service reporter Adam Klasfeld, who has covered the trial since its beginning in 2011, says each side is expected to call more than 20 witnesses during the sentencing phase, with a sentence potentially handed down in late August. Visit this page for more updates following the verdict.
UPDATE 2, Tuesday, June 4: More than three years after being arrested, Bradley Manning's trial is now underway. On Monday, in Fort Meade, Maryland, both sides made their opening statements, with Manning facing up to life in prison for indirectly aiding the enemy. The prosecutor, Captain Joe Morrow, said the case is "what happens when arrogance meets access to sensitive information." Defense attorney David Coombs called Manning "a humanist" who was "young, naive, but good-intentioned." The trial is expected to last three months.
Although the court has kept tight secrecy on the trial by not releasing transcripts or allowing recordings, the Freedom of the Press Foundation has raised more than $60,000 to hire a court stenographer. However, there was an immediate setback on day one when stenographers were denied access due to a limited number of press passes issued by the Army. Nathan Fuller of the Bradley Manning Support Network gave up his press pass to allow a stenographer to transcribe.
Trevor Timm, executive director of the Freedom of the Press Foundation, tells Mother Jones that a short-term solution is in place, thanks to reporters from Forbes and the Verge who are letting FPF use their press passes until the end of the week, when the military is expected to issue their permanent passes. Timm says transcripts from the morning sessions are expected to be published online by 7 p.m., and from evening sessions by 9 a.m. the next day. You can find their daily transcripts here.
UPDATE, Thursday, February 28: In a military courtroom in Fort Meade, Maryland, on Thursday, Bradley Manning pleaded guilty to 10 of the 22 charges against him. The AP reports he admitted to sending classified material to WikiLeaks, but he pleaded not guilty to the charge of "aiding the enemy."
In addition to the plea, Manning was permitted by Judge Denise Lind to read a 35-page personal statement explaining his role in releasing the classified information: "I believed that if the general public, especially the American public, had access to the information…this could spark a domestic debate on the role of the military and our foreign policy in general," Manning said. "I believed that these cables would not damage the United States. However, I believed these cables would be embarrassing."
Lind will decide whether to accept his guilty plea, which carries a maximum of 20 years in prison. Meanwhile, the prosecution can still decide whether to pursue a court martial on the remaining 12 charges, which include a possible life sentence.
What about Manning's controversial treatment by the military justice system? For much more on how this case has unfolded, read on.
---
At a judicial hearing at Fort Meade in Maryland on November 7, Bradley Manning, the imprisoned Army private accused of leaking hundreds of thousands of classified documents to the anti-secrecy organization WikiLeaks, offered to plead guilty to a subset of the charges against him. The offer was first submitted on October 17, but due to the strict secrecy surrounding the case and minimal media coverage the details only came to light with that hearing. On Tuesday, more hearings are scheduled to begin, and for the first time they are expected to include testimony from Manning himself.
Adam Klasfeld, a reporter for Courthouse News Service, was one of just two credentialed reporters in the courtroom when the plea was revealed. (The other was Kevin Gosztola.) "It's surreal to see so little coverage in a case about the largest intelligence disclosure in U.S. history," Klasfeld said in an email. He also noted that there was confusion in the media about Manning's plea; some news outlets had overlooked the fact that Manning had agreed to a "naked plea" deal, which could reduce the charges, if accepted by the court. As Manning's attorney David E. Coombs explained in a blog post:
PFC Manning has offered to plead guilty to various offenses through a process known as "pleading by exceptions and substitutions." To clarify, PFC Manning is not pleading guilty to the specifications as charged by the Government. Rather, PFC Manning is attempting to accept responsibility for offenses that are encapsulated within, or are a subset of, the charged offenses. The Court will consider whether this is a permissible plea.
Specific details about Manning's plea are as yet unknown. But according to Klasfeld, following the hearings in early November a military spokesman at Fort Meade told him that details of Manning's plea will come out in December during scheduled arguments. The spokesman also told Klasfeld that, as part of the deal, Manning may admit to "everything except the global address book"—a list of US government contacts and emails that was compromised. That means Manning would take responsibility for leaking a large cache of files from various US military databases in the war zones, Guantanamo Bay, and the Pentagon's Defense Intelligence Agency, as well as leaking video of an air strike by a US Apache helicopter in Baghdad on July 12, 2007—later turned into worldwide news by WikiLeaks—in which 12 people were killed, including two Iraqi civilians employed by Reuters.
Rather than contest whether Manning leaked the files, Manning's defense strategy appears to be focused on his motivation for doing so and whether it did harm to US national security. (See more analysis here regarding Manning's legal strategy from one of his supporters.) Here's a brief rundown of Manning's story to date, and what may come next:
Arrested in May 2010
Beginning on May 21, 2010, Pfc. Bradley Manning initiated a series of online chats from Iraq with former hacker Adrian Lamo, who plead guilty in 2004 to penetrating the New York Times' internal network. In the chats Manning claimed he had released hundreds of thousands of classified diplomatic cables and videos to WikiLeaks. Lamo notified federal authorities, and Manning was then arrested at Forward Operating Base Hammer in Iraq on May 26. He was placed in pretrial confinement beginning May 29.
Held in maximum confinement
After two months in military jail in Kuwait, Manning was moved to the US Marine brig in Quantico, Virginia, on July 29, 2010. He was held there in maximum security confinement for nearly a year, where he sat alone in a cell for 23 hours per day and was denied a pillow and sheets. An online petition at Avaaz.org received more than 500,000 signatures calling for President Obama, Secretary of State Hillary Clinton, and former Secretary of Defense Robert Gates to "end the torture, isolation, and public humiliation of Bradley Manning." And in February of this year a UN report from Juan Mendez, the special rapporteur on torture, concluded after receiving information from the US government about Manning's treatment that "imposing seriously punitive conditions of detention on someone who has not been found guilty of any crime is a violation of his right to physical and psychological integrity…"
A not-so-timely trial?
The US Department of Defense's Manual for Courts-Martial requires that the accused be brought to trial within 120 days of charges or arrest. But Manning's courts martial trial is not set to begin until February 2013, nearly 1,000 days after he was placed into pretrial confinement, according to his defense attorney. The Army, however, ostensibly halted the 120-day clock multiple times: Wired reported earlier this year that the Army needed time to determine Manning's mental health at the time of the alleged leaks, prepare evidence, and obtain security clearances. This issue of timing figures in Manning's defense strategy. (More on that just below.)
Moved to better prison conditions
On April 20, 2011, Manning was moved from Quantico to medium-security confinement at Fort Leavenworth, Kansas. Pentagon General Council Jeh Johnson told reporters, "Given the length of time he's been in pretrial confinement at Quantico…we reached the judgment this would be the right facility for him."
Manning's defense attorney David E. Coombs confirmed about two weeks later that Manning's conditions had improved:
PFC Manning is now being held in Medium Custody. He is no longer under harsh pretrial confinement conditions. Unlike at Quantico, PFC Manning's cell has a large window that provides adequate natural light…PFC Manning is able to have all of his personal items in his cell, which include his clothing, his legal materials, books and letters from family and friends.
Attempts to get the case thrown out
On July 27, Coombs filed a 110-page motion to dismiss all charges, based on the assertion that Manning's treatment during his confinement at Quantico was "illegal pretrial punishment." That motion will be under consideration in this week's hearing.
On September 19, Coombs filed a 117-page motion to dismiss all charges in the case, citing the Courts Martial rules on a timely trial, as well as the 6th Amendment and Article 10 of the Uniform Code of Military Justice. Arguments for this motion began at the recent November 7 hearing. Recording devices were not permitted in the courtroom, but journalist and legal researcher Alexa O'Brien attended the hearings and published handwritten notes.
What comes next?
During the November 7 hearing it emerged that Manning had chosen to be tried by a judge alone, Army Colonel Denise Lind, instead of a jury of military officers. In an interview with AP, Washington attorney Michael Navarre, a Navy judge advocate and adviser to the National Institute of Military Justice, said Manning's plea could lead the judge to view Manning in a favorable light leading up to the February trial, and perhaps judge him with leniency. "One of the goals of accepting responsibility is to curry favor," Navarre said.
But Eugene R. Fidell, a military law specialist at Yale Law School, told the New York Times he was "baffled" by the move. Fidell notes that such an offer might help obtain a more lenient sentence by showing cooperation and saving the government time and expense, but that in this case the offer comes more than two years after his arrest. Manning may face life in prison if convicted of the government's charges.
This week's hearings on Manning's pretrial confinement and treatment at Quantico are expected to include testimony from Manning for the first time. Judge Lind is subsequently expected to consider the plea offer at a hearing on December 10, according to the Associated Press. More on what's being argued this week as part of the motion to dismiss can be found on Coombs's blog.