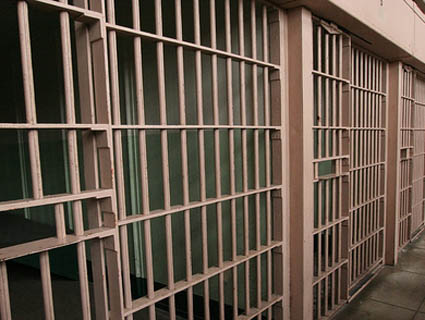 Fight disinformation:
Sign up
for the free
Mother Jones Daily
newsletter and follow the news that matters.
Will Congress prevent American citizens from being subject to indefinite military detention? A bipartisan group of senators have crafted an amendment to the latest defense bill that they believe will do exactly that.
"The federal government experimented with indefinite detention of United States citizens during World War II, a mistake we now recognize as a betrayal of our core values," said Senator Dianne Feinstein (D-Calif) Wednesday while introducing the amendment. "Let's not repeat it." Feinstein, who co-authored the amendment with Senator Mike Lee (R-Utah) has support not only from Senate Democrats Chris Coons (D-Del) Kirsten Gillibrand (D-NY) and Frank Lautenberg (D-NJ) but also Republican Senators Rand Paul, (R-Ky) Susan Collins (R-Maine) and Mark Kirk (R-Ill). "Granting the United States government the power to deprive its own citizens of life, liberty, or property without full due process of law goes against the very nature of our nation's great constitutional values," Lee said. The amendment could be voted on as early as Thursday, but it'll still have to survive the House, where the GOP majority has scuttled similar efforts to prevent indefinite detention of Americans.
About a year ago, President Barack Obama signed the 2012 National Defense Authorization Act promising not to use Congress' authorization of war against Al Qaeda to deny American citizens suspected of terrorism a fair trial by placing them in indefinite military detention. Senators, deadlocked over whether or not the Constitution allows such detention, agreed to adopt an amendment that left unaswered the question of whether Americans could be detained without trial. This year, Feinstein and Lee think their amendment blocking such detention for American citizens and legal permanent residents can pass.
Not all civil liberties groups however, are supporting the effort. That's because they think anyone on American soil should be given a trial if accused of a crime, given that the Constitution protects "persons," rather than "citizens." The Feinstein-Lee amendment is "inconsistent with the constitutional principle that basic due process applies to everyone in the US," says ACLU legislative counsel Chris Anders. Not only that, but Anders worries that the amendment could be construed to actually imply that the government has the constitutional authority for such detention.
The way the amendment reads now, a foreign visitor like Umar Abdulmutallab—the Nigerian who tried to explode a bomb in his underpants on a flight to Detroit several years ago—could still be subject to indefinite military detention.
So why does Feinstein and Lee's amendment only apply to US citizens and legal residents? Becuase that's what could pass, Feinstein said Wednesday. While she could support extending the protection to any person apprehended on US soil, "the question is whether there is enough support in this body," Feinstein said. "I do not believe there is."