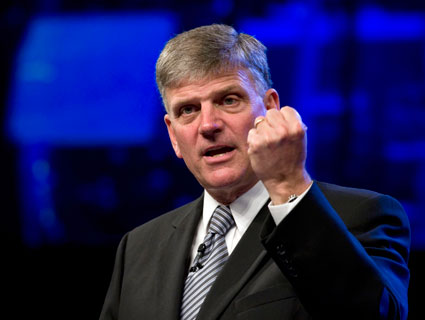 Fight disinformation:
Sign up
for the free
Mother Jones Daily
newsletter and follow the news that matters.
Some conservatives are having a tough time with President Barack Obama's reelection. Take social conservative leader Franklin Graham. In an interview with Newsmax.com, the Rev. Graham, a prominent evangelist and son of top-dog evangelist Billy Graham, maintained that Obama's victory will put the country further along a "path of destruction." And he suggested it would take a "complete economic collapse" to place the United States on a better course and return it to godliness.
Graham equated the Obama years with a national rejection of God. "In the last four years, we have begun to turn our backs on God," he said. "We have taken God out of our education system. We have taken him out of government. You have lawyers that sue you every time you mention the name of Jesus Christ in any kind of a public forum." Oddly, Graham ignored the fact that he and other shepherds of the Christian right have griped about such matters for much longer than four years. It didn't start with Obama.
As Graham denounced the Obama years, Newsmax's Kathleen Walter asked, "So we've become too secular a nation? How do we bring God back into government?" Graham replied:
Maybe God will have to bring our nation down to our knees—to where you just have a complete economic collapse. And maybe at that point, maybe people will again begin to call upon the name of almighty God.
Economic calamity was the one option Graham mentioned—as if only such a disaster could move the United States in the right direction.
Graham has been no stranger to controversy. Earlier this year, he had to apologize after questioning Obama's faith and saying on MSNBC that the president "seems more concerned about [Muslims] than the Christians that are being murdered in the Muslim countries." He has often decried the entire religion of Islam, at one point calling it "a very evil and wicked religion." Two years ago, he was disinvited from the Pentagon's National Day of Prayer event when a fuss developed over his anti-Muslim comments.
In his Newsmax interview, Graham wasn't quite advocating that God wreak total economic havoc upon the United States. But he did come close. He also noted that his father "likes the president personally." The problem, Graham explained, is that "the radical left" has "taken over the White House."
Despite his harsh feelings concerning Obama's leadership, Graham said God commands him and Christians to "pray for those in authority." Consequently, he said, "I would encourage everyone to pray for the president…We need to bathe him prayer"—presumably, before the final (economic) days come.