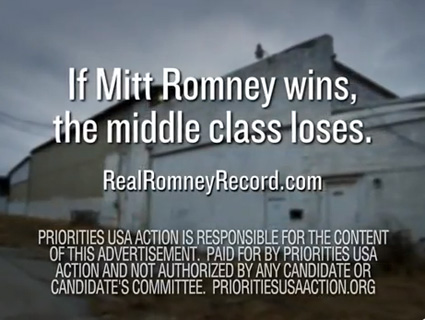 Fight disinformation:
Sign up
for the free
Mother Jones Daily
newsletter and follow the news that matters.
White working-class voters.
They do not, by and large, favor President Obama. That was true in 2008, when Republican John McCain trounced Obama by 18 percentage points among the white working class. That chasm has only grown in 2012, with Obama trailing Mitt Romney by as much 25 points, according to recent NBC/Wall Street Journal polls. 
But there's a crucial exception here, one that could put Obama within reach of a second term in office: Ohio.
Recent polls show that, unlike in Florida and Virginia, Obama's support among white working-class voters has held firm in Ohio. That steady backing among blue-collar whites goes a long way toward explaining the president's 5- and 6-point leads in recent polls of Ohio voters heading into Election Day. It's an advantage that could clinch for Obama the most contested swing state in the presidential race.
So why did white working-class Ohioans stick by Obama while their peers in other swing states did not? One reason was a relentless and brutally effective ad campaign by Priorities USA Action, the super-PAC run by a pair of former Obama White House aides.
Priorities USA Action has focused largely on attacking Mitt Romney's record at Bain Capital, the private equity firm he ran for almost two decades. The super-PAC cut more than a half-dozen ads depicting Romney as a cold-hearted plutocrat, ruthless in his pursuit of profits and unaffected by the human toll of Bain's brand of buying and selling companies. The ads feature laid-off workers with names like Bev Webb and Donnie Box and Joe Whitley, usually hailing from heartland states like Indiana and Ohio, talking about what they saw as Romney's disregard for those left in the wake of Bain's deal-making. The tag line of these ads was simple yet brutal: "If Mitt Romney wins, the middle class loses."
The super-PAC's most searing ad was "Stage," in which a man named Mike Earnest describes building a 30-foot stage at the paper plant he worked at in Marion, Indiana. Romney-run Bain Capital had recently bought the plant. Days after building the stage, Earnest explains, a group of businessmen strolled onto it and told everyone at the plant they were fired. "Turns out that when we built that stage," Earnest says into the camera, "it was like building my own coffin. And it just made me sick."
Here's the ad:
"Stage" has been nothing short of a home run for Priorities. Ace Metrix, a TV analytics company, rated it the most effective campaign spot of the 2012 election season. ABC News called it "the Bain ad that Romney should fear the most." The New Republic said the ad was "surely the most effective of all." Even GOP message guru Frank Luntz was quoted by the Huffington Post's Howard Fineman as saying "that ad alone has killed Mitt Romney in Ohio."
A Priorities staffer, who requested anonymity to discuss internal metrics, says the super-PAC has spent nearly $50 million on nine ads hitting Romney's record at Bain. Priorities sunk "eight figures" alone into saturating the airwaves with "Stage." Priorities' nine Bain ads have been viewed 5.2 million times on YouTube, including 2.8 million for "Stage"; 710,000 of those overall views were by Ohioans, the staffer ads.
The Priorities super-PAC settled on its anti-Bain strategy soon after the group's launch in April 2011. It resulted from a challenge that confronted Priorities early on: tying Romney to the unpopular Republican agenda of ending Medicare as we know it, shuttering Planned Parenthood, cutting taxes on the wealthy, and so on. In focus groups, the Priorities staffer recalls, voters simply didn't believe Romney stood for that agenda. The super-PAC needed a clear, concise message that sowed doubt in voters' minds about Romney and his vision for the country.
Cofounders Bill Burton and Sean Sweeney, both former Obama aides, also guessed that they wouldn't have nearly as much money to spend as their Republican counterparts. (They were right: Priorities' $64 million haul pales in comparison to the $132 million banked by Restore Our Future, the pro-Romney super-PAC.) So Burton, Sweeney, and the Priorities team had a limited amount of money to convince voters that Romney would sucker-punch the middle class if elected president.
Zeroing in on Romney's Bain years would limit their scope, the Priorities staffer says. But focus groups showed that the super-PAC's Bain messaging really resonated in Ohio, a Rust Belt state where only 24 percent of people have a college degree. The legacy of corporate outsourcing is plain to see in the empty mill towns and muted Main Streets across Ohio. A message tailored to those voters, the Priorities staffer says, could be a hit.
"Stage" and Priorities' other Bain ads were so successful that they've kept Obama competitive in Ohio with the demographic he struggles with most. Burton even fired off an email to supporters on Friday pleading with them to donate so that Priorities could keep "Stage" on the airwaves in the final days of the campaign.
The Obama campaign itself, of course, deserves ample credit for the president's standing in Ohio. Obama, Vice President Joe Biden, and campaign surrogates have hyped the president's support for bailing out General Motors and Chrysler, which resulted in saving tens of thousands of Ohio jobs. They've contrasted that support with Romney's call to push General Motors and Chrysler into managed bankruptcy without federal backing. And the Obama campaign has similarly hit Romney for his years at Bain.
But any account of President Obama's fight for Ohio is incomplete without factoring in Priorities' assault on Romney and Bain. And if Obama does win Ohio on Tuesday, the president who once blasted super-PACs as "a threat to democracy" will owe a debt to the super-PAC that had his back.