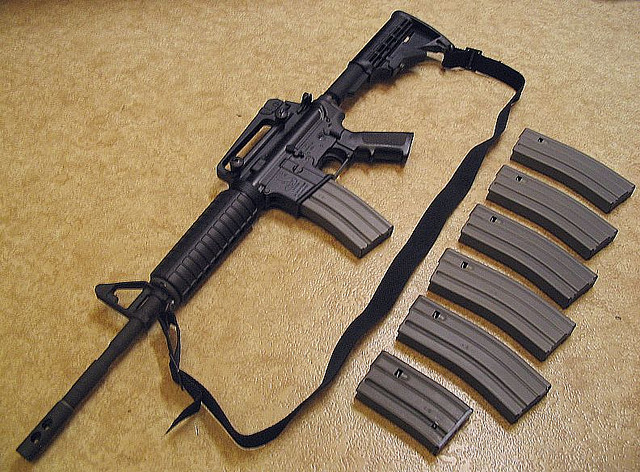 Fight disinformation:
Sign up
for the free
Mother Jones Daily
newsletter and follow the news that matters.
The big-money buyout firm behind Bushmaster and many other gunmakers is getting out of the firearms business—and thanks may be due to public-sector workers in one of America's bluest states.
Chances are you didn't even know that Cerberus Capital Management, the Dan Quayle-employing, Manhattan-based private equity group that famously took a bath on Chrysler during the auto bailout, owned 15 gun manufacturers with $238 million in total sales last quarter—including Bushmaster, which produced the assault rifle that was Adam Lanza's weapon of choice in Newtown last Friday. Cerberus managed this "family of companies" through a shell called Freedom Group, which grew so large that some rank-and-file NRA members feared a mysterious anti-gun purchaser was buying up the companies just to shut them down.
The NRA eventually issued a statement vouching for Cerberus, writing that the "owners and investors involved are strong supporters of the Second Amendment and are avid hunters and shooters." That may be true, but now they're getting out of the gun business. Even private equity investors have to answer to their funders, and one of Cerberus' biggest investors said Monday that after the Newtown shooting, it was "reviewing its investment" in the group. That investor is the California State Teachers' Retirement System (CalSTRS), which has pumped $751.4 million into Cerberus, according to Reuters. Perhaps public school teachers in San Pablo and Reseda don't want to pad their retirements by investing in Remington, Barnes Bullets, and Advanced Armaments.*
As a result of these financial pressures, Cerberus decided last night to ditch its gun operations. "We do not believe that Freedom Group or any single company or individual can prevent senseless violence or the illegal use or procurement of firearms and ammunition," Cerberus claimed in a statement to Politicker.com last night, but the firm acknowledged that there "are, however, actions that we as a firm can take. Accordingly, we have determined to immediately engage in a formal process to sell our investment in Freedom Group." The decision, Cerberus stated, "allows us to meet our obligations to the investors whose interests we are entrusted to protect."
The move lends some credence to commentators who say that this time, after this tragic mass shooting, public demand for gun reforms might lead somewhere. The horror factor of the Newtown murders was unprecedented—and Cerberus' move was unprecedented, too. Maybe even more unprecedented changes are ahead of us.
Correction: The original version of this article incorrectly stated that Walmart had pulled Bushmaster firearms from its shelves, contributing to Cerberus' decision to sell its gun holdings. In fact, Walmart only removed the particular Bushmaster gun used by Lanza from its website; it is still selling that weapon and other products from the company.