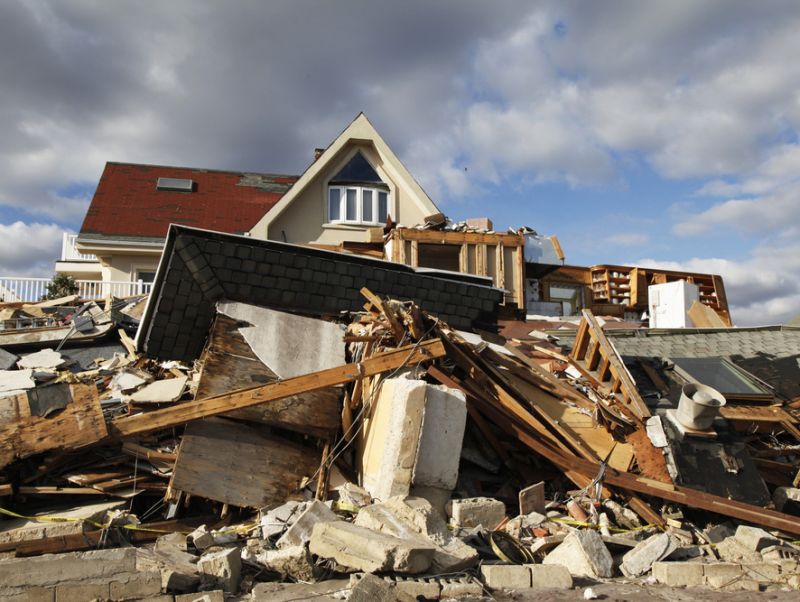 Fight disinformation:
Sign up
for the free
Mother Jones Daily
newsletter and follow the news that matters.
A few weeks ago, my colleague Kevin Drum wrote that Congress was "about to get hit in the head with the price of climate change." Well, here it is. On Wednesday, news broke that President Obama is expected to ask for around $50 billion in disaster aid in response to Hurricane Sandy. And even that is not nearly as much money as the affected states have asked the federal government to provide.
From the New York Times:
The White House is assembling a spending request to send to Capitol Hill as early as this week, and while the final sum is still in flux, it should fall between $45 billion and $55 billion. That represents an enormous sum at a time when Mr. Obama is locked in a titanic struggle with Republicans over the federal deficit, but is significantly less than the states sought.
Unless an austerity-minded Congress adds to the president's plan, state leaders would have to figure out other ways to finance tens of billions of dollars of storm-related expenses or do without them. New York, New Jersey and Connecticut were seeking a combined $82 billion in federal help both to clean up and restore damage from Hurricane Sandy as well as to upgrade and harden infrastructure to prepare for future storms.
Climate-fueled megastorms like Sandy, droughts, wild fires—none of these are cheap. And while this is one big, expensive storm, we've also been paying for billion-plus-dollar disasters more frequently in the paset few years. For so long, all we seemed to hear from Congress about climate change were complaints that we can't afford to deal with it. Now that a giant bill is coming due, I wonder what they'll have to say.