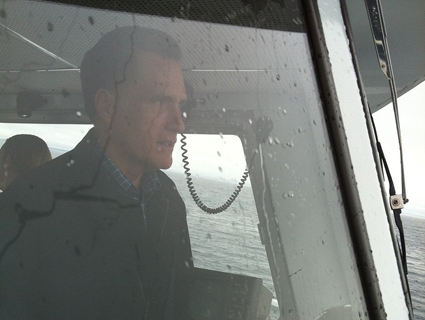 Fight disinformation:
Sign up
for the free
Mother Jones Daily
newsletter and follow the news that matters.
After ending his six-year campaign for president, the Washington Post reports that Mitt Romney doesn't quite know what to do with himself:
Gone are the minute-by-minute schedules and the swarm of Secret Service agents. There's no aide to make his peanut-butter-and-honey sandwiches. Romney hangs around the house, sometimes alone, pecking away at his iPad and e-mailing his CEO buddies who have been swooping in and out of La Jolla to visit.

…

One longtime counselor contrasted Romney with former vice president Al Gore, whose weight gain and beard became a symbol of grievance over his 2000 loss. "You won't see heavyset, haggard Mitt," he said. Friends say a snapshot-gone-viral showing a disheveled Romney pumping gas is just how he looks without a suit on his frame or gel in his hair.
Ben Smith suggests that Mitt's malaise makes him (finally) somewhat likable. Jamelle Bouie finds it hard to feel bad for someone whose campaign was so dripping with disdain. I think we're overstating the desperation of Romney's situation. Contrast Romney's cushy retirement to his ocean-front La Jolla mansion with Theodore Roosevelt—who after his 1912 loss to Woodrow Wilson* literally got lost in the wilderness and nearly died:
Theodore Roosevelt had carried the lethal dose of morphine with him for years. He had taken it to the American West, to the African savanna and, finally, down the River of Doubt—a twisting tributary deep in the Amazon rain forest. The glass vial was small enough to tuck into a leather satchel or slip into his luggage, nearly invisible beside his books, his socks and his eight extra pairs of eyeglasses. Easily overlooked, it was perhaps the most private possession of one of the world's most public men.

In December 1913, Roosevelt, then 55, and a small group of men embarked on a journey to explore and map Brazil's River of Doubt. Almost from the start, the expedition went disastrously wrong. Just three months later, as Roosevelt lay on a rusting cot inside his expedition's last remaining tent listening to the roar of the river, he clutched the vial that he had carried for so long. Shivering violently, his body wracked with fever, he concluded that the time had come to take his own life.

In the span of a few days, Roosevelt, once America's youngest President and among its most vigorous, had become a feverish, at times delirious, invalid. He was suffering from malaria and had developed a potentially deadly bacterial infection after slicing his leg on a boulder. In the sweltering rain forest, the cut had quickly become infected, causing his leg to redden and swell and sending his temperature soaring to 105°F. At the same time, the expedition had reached a set of seemingly impassable rapids. Roosevelt's Brazilian co-commander, Colonel Cândido Rondon, had announced that they would have to abandon their canoes and strike out into the jungle–every man for himself. "To all of us," one of them wrote, "his report was practically a sentence of death." For Roosevelt, who could barely sit up, much less fight his way through the rain forest, the plan was simply an impossibility.
So really, things could be much worse.
Update: I should note that Roosevelt did actually make it out of the Amazon alive, but never fully recovered and died five years later.
*Correction: It was Wilson, not Taft.