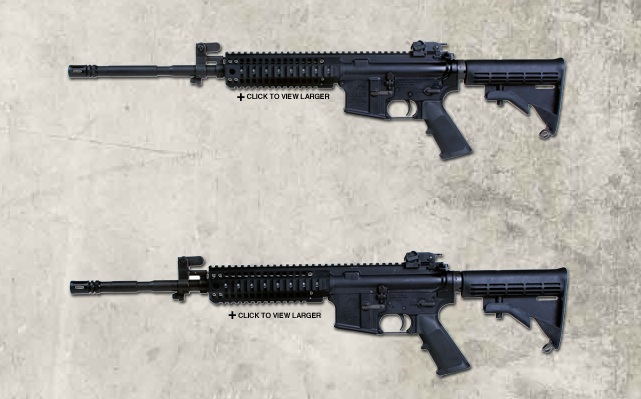 Facts matter:
Sign up
for the free
Mother Jones Daily
newsletter.
Support
our nonprofit reporting.
Subscribe
to our print magazine.
When the public school students of Fontana, Calif., returned to classes in January, something had changed about their schools. Specifically, the Fontana Unified School District had filled on-campus safes with $14,000 in new Colt 6940 semi-automatic rifles for its 14 police officers. The high-powered, long-distance rifles will only be used in "extreme emergency cases."
As the Los Angeles Times reports, the Fontana school district's heavy arming of its campus cops has stirred a controversy in the local community. One school board member, Leticia Garcia, told the Times that police officials and school administrators acted without consulting local Fontanans, a grave mistake given the ongoing national debate around guns and schools. "It was not vetted by the board and not vetted by the community," Garcia said.
Each Colt 6940 rifle, with an upper receiver originally designed for US Special Operations Command rifles, costs at least $1,000. Here's more from the Times:
The district purchased the rifles in October and they arrived in December, before the tragedy in Newtown, where a gunman killed 26 people—20 of them children—at an elementary school. The shooting sparked a debate on whether armed school guards could prevent these types of tragedies.

The rifles have been on campuses since students returned from winter break in January, said Fontana Unified School District Police Chief Billy Green.

Though the purchase was not spurred by any one event, the rifles are designed to increase shooting accuracy from a distance and provides officers with effective stopping power against assailants wearing body armor. Those capabilities are necessary for officers to stop a well-armed gunman, Green contends.

"If you know of a better way to stop someone on campus that's killing children or staff members with a rifle I'd like to hear it," he said. "I don't think its best to send my people in to stop them with just handguns."

"I hope we would never have to use it," he said. "But if we do, I'd like them to be prepared."