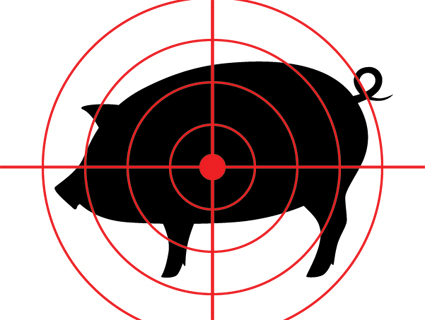 Fight disinformation:
Sign up
for the free
Mother Jones Daily
newsletter and follow the news that matters.
When President Barack Obama called on Congress to renew the assault rifle ban last week, he had a specific gun in mind. "The type of assault rifle used in Aurora, for example, when paired with high-capacity magazines, has one purpose," Obama said, referring to the ubiquitous military-style AR-15: "To pump out as many bullets as possible as quickly as possible; to do as much damage using bullets often designed to inflict maximum damage."
He's not the only person who views the semi-automatic rifle as little more than an instrument of warfare. "The only civilians who 'need' an AR-15 assault rifle are those who want to commit mass murder," CNN host Piers Morgan tweeted on Sunday. "That's what they do. #killingmachines."
Unless, that is, you're battling bacon.
On Sunday, Bryan Hendricks, an outdoors columnist at the Arkansas Democrat-Gazette, offered a counterpoint to the president's assault weapons proposal: wildlife management. "Recreational hunting is a vital cog in managing feral swine, but it is only effective if you kill a concentration of pigs," he wrote. "That requires semi-automatic weapons capable of firing a lot of rounds quickly." In other words, if conservationists are serious about reining in the runaway porcine population, they should welcome high-capacity magazines and rapid-action rifles, not shun them.
Let's get one thing out of the way: Hogs are serious business. According to Mississippi State University's feral pig program, a "conservative estimate" of the damage caused by swine each year is $1.5 billion—and the pig population is migrating north and west due to careless catch-and-release practices. That price tag doesn't include the tens of millions of dollars spent annually ($25 million in Texas alone) to control the population. In 2011, in an effort to combat the razorback revolution, Gov. Rick Perry signed a new law allowing any citizen to hunt hogs from helicopters, provided the pilot has a special permit.
Comedian Roseanne Barr—who, we should note, actually ended up receiving more presidential votes than Perry—cited a wild-pig intrusion on her property as a primary motivation for her own presidential campaign. As she told Jay Leno, "I have feral pigs that overrun my farm and I'd like to shoot them out of a helicopter."
With that in mind, Hendricks may be on to something. "In situations with high volumes of animals and large social groups, semi-automatic firearms, in the hands of a properly trained individual, are a distinctly better tool than a bolt-action rifle," said Anthony DeNicola, CEO of White Buffalo Inc., a Connecticut-based firm that has won contracts for, among other things, eradicating feral pig populations on California islands. "This is particularly true when using a helicopter as a shooting platform." (White Buffalo uses a JP Enterprises AR-15 for its pig hunts.)
Jackson Landers, a Virginia-based hunter who endorses eating local invasive species as a form of wildlife management, says he prefers the classic bolt-action hunting rifle when he's hogspotting but recognizes the necessity of semi-auto fire in certain cases. Recalling a recent expedition in which he "had to hunt the pigs at night there because they had gone nocturnal in response to hunting pressure," he attributed the mission's success to the fact that his colleague had brought an AR-15 equipped with a 40-bullet magazine and night-vision scope. In that case, firepower trumped accuracy. "There are applications for it; most hunters will never need that, but if you are doing controls for larger nuisance animals, it makes sense," Landers said.
The problem, as Landers explains, is that hogs scatter after the first shot. The semi-automatic allows you to get off shots in very fast succession, as this video from a company called Special Hog Weapons and Tactics demonstrates:
Landers also points to the prairie dog as a case for semi-automatic weapons. Western landowners are required to control the prairie dog populations on their property, but short of pulling a Bill Murray in Caddyshack, that's quite difficult without a high-capacity clip: "Legally, I have to kill 500 of these prairie dogs. That's not sport hunting anymore." (Another contributing factor to the gun's popularity: For veterans of the wars in Iraq and Afghanistan, the AR-15 just feels more natural than the traditional hunting rifle.)
Semi-automatics aren't the only way to bag a pig. "In our extension and outreach efforts, we mainly talk about trapping, because that's gonna be the most efficient way," says Bill Hamrick, a wildlife extension associate at Mississippi State. "You don't have to be there on the spot, and you can catch more animals in one trapping than you can in one hunting or shooting event, because usually when you shoot they scatter." But, Hamrick added, there were some instances where the assault rifle might be the most feasible: "If you wanna do pig control and you're doing it at night with thermal imaging and night vision, then yeah, you would want to be able to get off as many shots as you could."
There's one thing that should help Hendricks et al. breathe a little easier, though. The proposed assault weapons legislation would apply only to new sales; it wouldn't do anything about the 3.8 million AR-15-type rifles that are already legally owned in the United States, nor would it do much to stop gunmakers from modifying existing weapons ever-so-slightly to meet the new specifications. Wildlife owners might lose their high-capacity clips, but they'll still be able to use their Bushmaster for their cold, dead hams.
Failing that, they could always try karaoke.