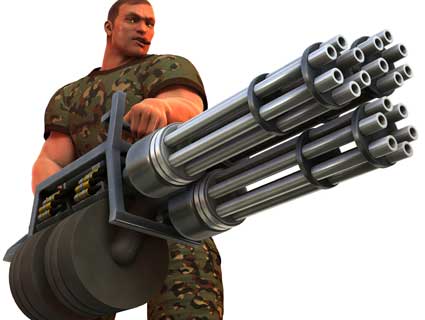 Fight disinformation:
Sign up
for the free
Mother Jones Daily
newsletter and follow the news that matters.
California would ban the sale of all semiautomatic rifles that accept removable magazines, slap a hefty tax on ammo, and require every gun owner to take a yearly safety course under a new package of firearms laws that would give the Golden State the nation's strongest gun controls.
These and many other proposed firearms laws were announced late last week by leading state Democrats and the mayors of San Francisco and Los Angeles. Many of the laws are expected to pass, in part because the Democratic Party in California now controls the governor's mansion and a supermajority in the Legislature.
"As it is with many issues, California is out front on firearms regulations," said Mark Hedlund, a spokesman for California Senate President Pro Tem Darrell Steinberg. "We don't represent the NRA. We don't think that the NRA represents the majority of Californians, by a long shot."
California's newly proposed gun laws would:
Ban the possession of ammunition magazines that hold more than 10 rounds
Prevent the future sale, purchase, manufacture, importation, or transfer of any firearms that can accept detachable magazines
Close the "bullet button" loophole by banning tools that allow the quick changing of gun magazines
Regulate ammunition sales like the state regulates gun sales. Ammunition dealers would need to be licensed and anyone buying from them would need to obtain a permit and complete a background check.
Create a 5 cent tax on each bullet purchased, for the purpose of funding crime prevention
Prevent felons and other adults barred from gun ownership from living in a house that contains any guns
Prohibit the loaning or sale of a firearm between people who know each other personally
Take steps to phase out legal possession of assault weapons that were purchased before California outlawed their sale
Require all firearms owners to take an hours-long gun safety course every year, similar to what the state now requires for obtaining a concealed-weapon permit
Require gun owners to purchase insurance to cover damage they may inflict
Require CalPERS and CalSTRS, two of the nation's largest pension funds, to divest from companies that make, sell, or market firearms or ammunition
California has already enacted some of the nation's strictest gun control laws, partly due to its experience with a Sandy Hook-style massacre: In 1989, a mentally unstable ex-con opened fire with an AK-47-style assault rifle on an elementary school playground in Stockton, killing five schoolchildren and wounding 28 others. The shooting contributed to the passage that year of California's assault weapons ban.
Somewhat uniquely, California's state constitution doesn't guarantee the right to bear arms. The Golden State gives its cities the option of refusing to issue concealed-carry permits and doesn't recognize permits issued by other states. It requires the reporting of all handgun sales, and it cross-checks the data against the names of convicted criminals and violent mental patients. And unlike most states, it requires background checks for firearms purchases between private parties, closing a loophole that accounts for 80 percent of gun acquisitions made with intent to carry out a crime.
Since the passage of California's strict gun rules, the incidence of mass shootings has plummeted. "California used to be the mass-shooting capital of the country, but instead of throwing up their hands, they addressed the problem head-on and are reaping the benefits," says Julie Piotrowski, a spokeswoman for the Violence Policy Center, a pro-gun-control group. "Their success will most certainly inspire action in other states and at the federal level."
If enacted, the new laws might do for guns what California's pollution and fuel economy rules did for the nation's automobiles. In 2011 alone, Californians bought 600,000 firearms; only Texas sports more registered weapons. "The gun industry has a love/hate relationship with California," Hedlund says. "They hate our gun regulations because they are among the toughest in the country, but they love our marketplace."
Not to mention how the state essentially does their marketing. No matter what, the weapons industry can rest assured that there will be no shortage of guns in Clint Eastwood flicks.