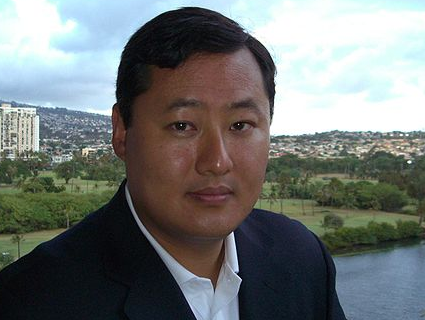 Fight disinformation:
Sign up
for the free
Mother Jones Daily
newsletter and follow the news that matters.
John Yoo, the author of the Bush administration legal memos justifying the use of torture, thinks President Obama is really getting too much grief over targeted killing. And he wants Sen. Rand Paul (R-Ky.)—who filibustered Obama's nominee to head the CIA for 13 hours on Wednesday—to lay off.
"I admire libertarians but I think Rand Paul's filibuster in many ways is very much what libertarians do, they make these very symbolic gestures, standing for some extreme position," said Yoo, now a UC Berkeley law professor, who once suggested it was okay for the president to order a child's testicles be crushed. Referring to Paul's marathon filibuster, an attempt to force the Obama administration to clarify its views on the use of military force against terror suspects in the United States, Yoo said "It sort of reminds me of young kids when they first read The Fountainhead or Atlas Shrugged and they suddenly think that federal taxation equals slavery and they're not going to pay any federal taxes anymore." Yoo's statements were made on a conference call Thursday held by the Federalist Society, an influential conservative legal organization.
Paul's conservative colleagues also pushed back on him on Thursday: On the Senate floor, John McCain (R-Ariz.) and Lindsey Graham (R-S.C.) mocked Paul's objections as "ridiculous."
Yoo said that he thought the administration's problems stemmed from its belief that it needed to provide "due process" to terror suspects abroad—or even in the United States, referring to a recently leaked white paper outlining the Obama administration's legal views on targeted killings of US citizen terror suspects. Indicative of how the debate over Obama's counterterrorism policies has scrambled the usual partisan divides, Yoo said he agreed with the conclusion reached in Attorney General Eric Holder's letter to Paul earlier in the week suggesting that the president could order the use of military force on US soil under certain extreme circumstances. "I think it's right if an American joins an enemy with which we are at war he is or she is a valid target as an enemy combatant. That's been the rule throughout our history," Yoo said. "People in the Civil War were all American citizens, but the ones who took up arms were members of the enemy."
In the event of an attack similar to the one that occurred in Mumbai, India in 2008, Yoo said, "we would expect that our government would respond to those attacks not just by sending out the police but by sending out the military if necessary. If you could use force in that situation you could use drones just like you could use snipers or combat troops."
Also on the conference call were American University School of Law professor Steve Vladeck and former federal prosecutor Andrew C. McCarthy, a writer for National Review.
Referring to an exchange between Attorney General Holder and Sen. Ted Cruz (R-Texas) over whether an American terror suspect "sitting in a cafe" in the United States could be targeted in a drone strike, McCarthy took Holder's side. Holder had said it would be "inappropriate" to use lethal force under such circumstances; pressed by Cruz Holder agreed it would be unconstitutional.
"I had sympathy for Attorney General Holder yesterday, particularly when he was being browbeaten by Senator Cruz," said McCarthy, who has alleged that the Obama administration is being controlled by the Muslim Brotherhood. "I understood why the attorney general was reluctant to use the label unconstitutional, and substitute it with something that was more equivocal."
Holder sent a brief letter to Paul Thursday afternoon designed to address the concerns Paul expressed during his filibuster. "Does the President have the authority to use a weaponized drone to kill an American not engaged in combat on American soil?" Holder asked. "The answer is no."