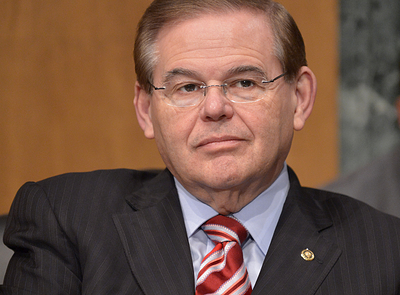 Fight disinformation:
Sign up
for the free
Mother Jones Daily
newsletter and follow the news that matters.
Salomon Melgen is the eye doctor, investor, and big-time political donor embroiled in controversy for his cozy relationship with Sen. Bob Menendez (D-N.J.), one of the most powerful Democrats in the Senate. On two occasions, Menendez pressed government officials—once over Medicare and Medicaid billing practices and another time over Latin American governments not honoring trade-related contracts—in ways that appeared to benefit Melgen, who has donated handsomely to Menendez and Democratic causes. Menendez also took two round-trip flights on the doctor's private jet, reimbursing the doctor only after the details spilled into public view.
Menendez, it turns out, wasn't the only powerful politician Melgen feted. Politico reported Tuesday night that Melgen hobnobbed with President Obama at 2010 fundraiser for the Democratic Senatorial Campaign Committee (though Melgen was peeved at Obama's reluctance to fully schmooze him). Melgen also ferried Senate Majority Leader Harry Reid (D-Nev.) on his private jet to a fundraiser in Boston for Majority PAC, a super-PAC devoted to electing Senate Democrats and run by former Reid aide Susan McCue. Reid flew back to Washington with Melgen. Reid's office said the senator reimbursed Melgen for the flights.
Politico gleans some more details about Melgen's quirkiness as a big-time bankroller:
Some rich folks looking for special treatment would work through a lobbyist with experience navigating government bureaucracy.

Not Melgen—he was his own lobbyist, with access to lots of cash and a private jet owned by his company.

He went to top officials about the Dominican government's reluctance to implement a $500 million port cargo-screening contract with one of his companies and to challenge the finding that another of his companies overbilled Medicare.

While he was glad-handing politicians, Melgen was living the high life. He was driven around South Florida by a chauffeur in a customized Audi A8 and invited all manner of politicos to his mansion in the Dominican Republic.

Melgen keeps an enviable collection of photos with politicians—including one of him golfing with Bill Clinton—and bragged of using his plane to transport the rapper Pitbull to a super PAC fundraiser at the Democratic National Convention last summer, according to sources who know him.

Yet Democratic fundraisers interviewed for this story say Melgen fits a particular model of naive, high-maintenance donor: the type that expects politicians to help further their business or philosophical interests but don't know enough about the process to figure out if they're getting anything for their money.
Let's not forget that Melgen is under federal investigation over a port deal in Latin America and his company's Medicare billing practices. The Senate ethics committee, meanwhile, is probing Menendez's trips on Melgen's plane, and a grand jury is looking into the senator's advocacy on Melgen's behalf, according to the Washington Post.
Even if nothing comes of these probes, the whole affair has been an embarrassment for Menendez. You can bet other politicians with even the faintest connection to Melgen will be distancing themselves from the donor so as to avoid any future stories like Tuesday's Politico item.