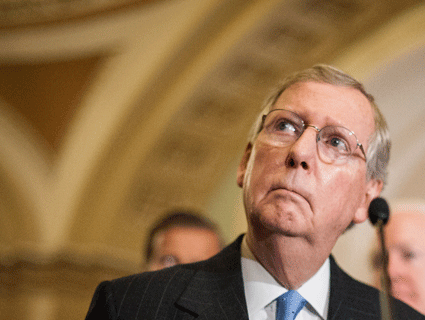 Fight disinformation:
Sign up
for the free
Mother Jones Daily
newsletter and follow the news that matters.
On Friday, Sen. Mitch McConnell (R-Ky.) took a turn on the main stage at the Conservative Political Action Conference (CPAC), the groupthinky annual confab for the young and old of the conservative movement. Dressed in a red tie and white-collared blue dress shirt, McConnell attempted to debunk one of the more pernicious myths about the Republican Party. "Don't tell me Republicans are the party of millionaires and billionaires," he said, "when Obama's campaign arm is charging a half-million dollars for a meeting over near the White House." The GOP, he later added, is "not beholden to any special interests."
We're not the party of the rich, McConnell insisted; we're you.
You won't find any objections here to McConnell's jab at "Obama's campaign arm"—a reference, more specifically, to Organizing for Action (OFA), the big-money nonprofit formed out of Obama's reelection campaign. I've written plenty about OFA and its fundraising tactics, namely, reportedly offering donors and fundraisers access to the president and top administration officials in exchange for big bucks.
But let's go back to McConnell's claim that the GOP is not the party of millionaires or billionaires. For a thorough debunking, I defer to none other than Mitch McConnell.
Next week, McConnell and his wife, former Labor secretary Elaine Chao, will fly to Palm Beach, Florida, for a fundraiser at the home of millionaire John Castle, according to the Palm Beach Daily News. Then, after the Castles' fundraiser, Wilbur Ross (net worth $2.6 billion) and his wife, Hilary, will wine and dine McConnell at their house, which is so extravagant that it has its own name, Windsong. (So does the guest house: Windsong Too.) Tickets range from $1,000 to $5,000 for the night's events; to co-chair the event, you've got to pony up $15,000 to $30,000.
McConnell, of course, is in full campaign mode—even though Election Day 2014 is 18 months away and Kentucky Democrats have yet to settle on a challenger. (More on that here.) Indeed, McConnell's fundraising blitz began the very day the 2012 campaign season ended, with a $2,500-a-head dinner hosted by the National Republican Senatorial Committee. Since then, he's raised money at the home of another billionaire—New York City mayoral candidate John Catsimatidis, in January—raised money at lobbying firms, and raised money at an event sponsored by the political action committees for Koch Industries, Home Depot, Capitol One, Amgen, and Delta Airlines—all multibillion-dollar corporations.
Fundraising is McConnell's specialty. As former Sen. Alan Simpson once observed, "When he asked for money, his eyes would shine like diamonds. He obviously loved it." Don't think for a moment McConnell will let his defense of the GOP get in the way of his chase for millionaires' and billionaires' money.