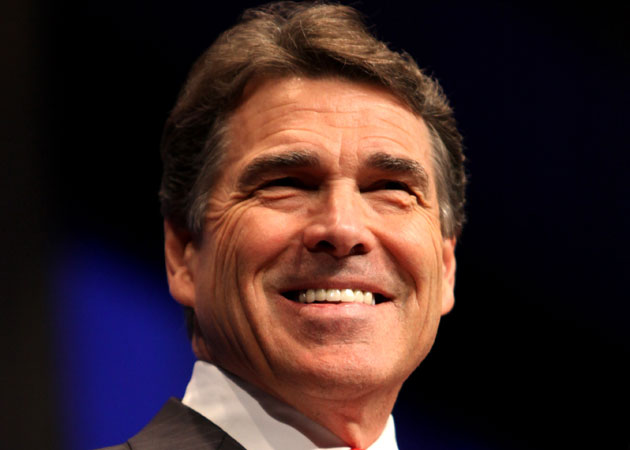 Fight disinformation:
Sign up
for the free
Mother Jones Daily
newsletter and follow the news that matters.
Watchdog groups have long argued that the Texas Enterprise Fund, a taxpayer-funded program that has awarded more than $487 million to big businesses that set up shop in the Lone Star State since 2004, is a slush fund that allows Gov. Rick Perry to reward allies and political donors. Despite the criticisms, the Texas State Auditor's Office hasn't examined the fund's finances in at least a decade. Now a bipartisan group of state senators is pushing a bill that would subject the Enterprise Fund to an independent state audit. But Perry's office won't explain whether the governor backs the idea. Besides, it says, the state's top three Republicans have everything under control.
"Every project must receive unanimous approval from the governor, lieutenant governor, and House speaker," says Lucy Nashed, a spokeswoman for Perry. "The Legislature reviews the state's incentive funds every two years, and has continued to see the value in reauthorizing them every biennium since their inception." Actually, lawmakers are not planning to give any more money to the fund in the 2014-15 fiscal year, according to the San Antonio Express-News. (There is still about $140 million left in the kitty.) And although Nashed says that Perry "will review any bill that makes it through the process and onto his desk," she wouldn't say whether he supports or opposes the bill that has been introduced.
Auditing experts say having three GOP officials sign off on the Enterprise Fund's projects is not comparable to an audit. "I'm not familiar with the fund, but that doesn't seem to qualify as internal auditing at all," says Roger Martin, vice president of the American Accounting Association. D. Scott Showalter, an accounting professor at North Carolina State University, adds that "public funds [require] a higher level of accountability. An independent audit appears reasonable."
Given the Texas Enterprise Fund's record, Perry and his allies may have reason to fear a higher level of accountability. In 2010, the Texas Observer found that since the fund's inception in 2003, 20 of the 55 Texas Enterprise Fund grant recipients had given money directly to Perry's campaign or the Republican Governor's Association. A look at awards since 2010 shows the practice of handing money to Perry donors continues, albeit on a smaller scale: About 15 percent of companies that have received money from the fund since 2010 donated to Perry's campaign, according to records maintained by the National Institute on Money in State Politics and the Center for Responsive Politics.
Perry maintains that the fund gives Texas a competitive edge and has brought more than 56,000 new jobs to the state and generated more than $14.7 billion in capital investment. But the watchdog group Texans for Public Justice found that by the end of 2010, companies getting cash from the fund were only creating about 37 percent of the number of jobs promised. The administration has lowered standards in the past so that companies could create fewer jobs than they had promised, and it has canceled contracts after criticism over companies such as Bank of America's Countrywide, which continued to be an Enterprise grantee as it collapsed and laid off thousands of workers nationwide.
"It doesn't have enough transparency, it doesn't have enough oversight, and it's essentially a slush fund run out of the back of the governor's office."
The Texas Enterprise Fund "doesn't have enough transparency, it doesn't have enough oversight, and it's essentially a slush fund run out of the back of the governor's office," argues Craig McDonald, director of Texans for Public Justice, a state watchdog group.
The Texas state auditor's office would not comment to Mother Jones on whether or not the fund has enough oversight. However, when it audited Perry's other pet corporate grant program, the $200 million Texas Emerging Technology Fund (which at the time, required the same unanimous approval by Perry and Co. as the Enterprise fund) in 2011, the state auditor found that this fund had no consistent process for awarding grants, did not stop advisory board members (who were appointed by Perry) from accepting compensation from grant recipients, didn't record its meetings, and did not submit the majority of its required annual reports between 2007 and 2009. Another fund, the Cancer Prevention and Research Institute of Texas, which was spearheaded by Perry and Lance Armstrong, saw eight cancer scientists (two of them Nobel laureates) resign in protest because it was putting political and commercial interests over scientific ones.
"Perry's office is basically accommodating a process by which taxpayer money is transferred to corporations, not invested in state infrastructure," says Matt Angle, the director of the Lone Star Project, a political action committee devoted to strategic communications and research for Democrats. He would like to see Enterprise funds start going to education, family planning, and roads. (In 2011, Perry cut $5.4 billion in state funding from public schools, and he is turning down $100 billion to expand Medicaid while also shuttering 53 family planning clinics.)
For now, it's unclear where the remaining $140 million in the Texas Enterprise Fund will end up. The Associated Press has reported that the money may be used to fund SpaceX billionaire Elon Musk's commercial space station. While Nashed told Mother Jones the state is "very interested" in attracting SpaceX, she couldn't confirm whether or not taxpayers would be funding the move because "we don't discuss potential state incentive fund projects."