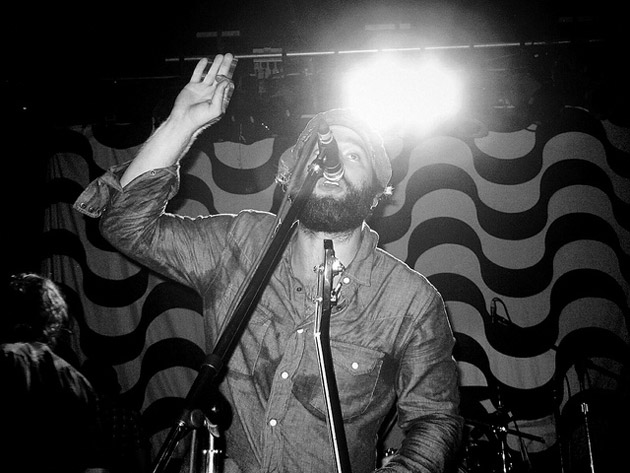 Fight disinformation:
Sign up
for the free
Mother Jones Daily
newsletter and follow the news that matters.
The Black Angels
Indigo Meadow
Blue Horizon Ventures
I was first introduced to The Black Angels back in 2007 as I wandered dusty Tennessee fields at the Bonnaroo music festival. As it happened, they were covering Iggy Pop's "I Wanna Be Your Dog" and I found myself drawn in. The Austin, Texas, four-piece has come a long way since then, releasing three studio albums and winning fans for their modern interpretations of '60s-era psych rock.
It is impossible not to think of Pink Floyd or The Doors while listening to the new album, Indigo Meadow, which came out last week. The fuzzy, wobbling guitar and pounding bass immediately evoke a psychedelic-rock museum, revisiting the spacey riffs unearthed by Syd Barrett's Pink Floyd on Piper at the Gates of Dawn, and the acid-fueled organ of The Doors first album.
Stand-out tracks include "Always Maybe" and "Evil Things." Simple and without pretension, Alex Maas' droning voice and the band's catchy guitar riffs make you want more: "Always/just one more" he sings on the former, evoking late nights at the bar, to a backdrop of blurry, dislocated sounds spliced with reverb and echoes. "Evil Things" is a bit speedier: "Making love on summer days / yeah it feels good to me." How about this lyric? "Love is your drug / Love is your evil."
The most interesting and serious track might be "Don't Play With Guns," penned after the Aurora Theater shooting in Colorado last year, which demonstrates the band's ability to tackle political themes without being too heavy-handed. "Now Josephine, she was a loner," Maas drones. "Her fortune of incredible lies / Her problems are now your problems / I hide a gun until the day she dies." The tune is appropriately fuzzy, muddled, and disorienting, with that spacey guitar overlaid on driving fuzz-rock—a sound reminiscent of Pink Floyd's "Interstellar Overdrive."
Overall, Indigo Meadow is neither a great departure for The Black Angels, nor any great musical revelation more generally. But, like the Angels' past albums, it's still a fine homage to the canon forged ages ago by the psych-rock giants.
Check 'em out: