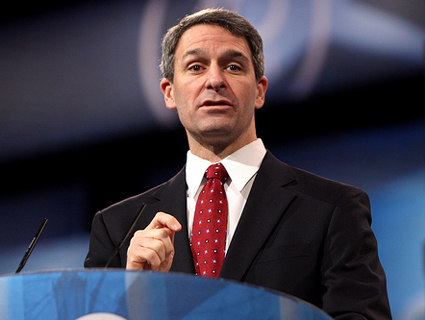 Fight disinformation:
Sign up
for the free
Mother Jones Daily
newsletter and follow the news that matters.
I should elaborate a bit on yesterday's story about Virginia Attorney General Ken Cuccinelli's request for a rehearing on the state's anti-sodomy law, which has gotten a lot of attention online. A three-judge panel of the US Court of Appeals for the 4th Circuit ruled that the state's "Crimes Against Nature" law, which forbids anal and oral sex, whether practiced by straight or gay people, is unconstitutional. But the AG wants the full 15-judge appeals court to hear the case again.
Cuccinelli's spokeswoman said Wednesday that the case "is not about sexual orientation," but about "using current law to protect a 17 year-old girl from a 47 year-old sexual predator."
This specific case deals with a man who was prosecuted under the "Crimes Against Nature" statute for having had oral sex with women, a felony offense under that law. The man in the case, William MacDonald, was in his late 40s when he was charged with having consensual oral sex with two young women who were, at the time, ages 16 and 17. While that might be seen as creepy, in Virginia, the age of consent is 15 years old. It is considered statutory rape—a felony offense—to have sex with anyone under that age. Under state law, an adult can be prosecuted for "causing" delinquency by having sex with someone between the ages of 15 and 18, but that is only a misdemeanor. MacDonald was convicted of such a misdemeanor, and his lawyers aren't challenging that conviction. But they have challenged—so far, successfully—the state's attempt to prosecute him for violating the "Crimes Against Nature" law.
Because Virginia still has this anti-sodomy law on the books, the state wants to use it against MacDonald and win a felony conviction. The state, however, couldn't prosecute him under this statute if he had engaged in vaginal sex. That is, the state is trying to use a loophole in the law that makes oral, but not vaginal, sex a felony in order to go after this guy. The court of appeals determined that MacDonald could not be prosecuted under this law because the US Supreme Court ruled in 2003 that such laws are an unconstitutional "intrusion into the personal and private life of the individual."
If Cuccinelli's concern is sex with minors, he should focus on changing Virginia's age of consent rules, not defending a law that the Supreme Court has said is indefensible. But in 2004, when a bipartisan group of Virginia legislators tried to change the law so that it would only apply to public sex, sex with minors, and prostitution, Cuccinelli opposed the bill. "My view is that homosexual acts, not homosexuality, but homosexual acts are wrong," he told a local paper in 2009. "They're intrinsically wrong. And I think in a natural law based country it's appropriate to have policies that reflect that. … They don't comport with natural law."
My colleague Adam Serwer has more on Cuccinelli and the crimes against nature law.