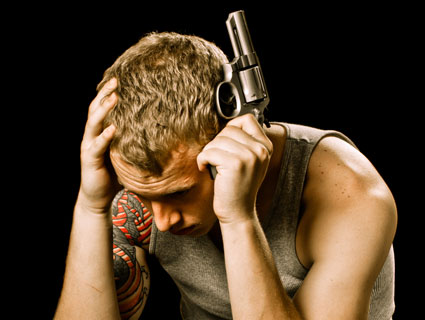 Fight disinformation:
Sign up
for the free
Mother Jones Daily
newsletter and follow the news that matters.
A new study by leading pediatricians has found that nearly 20 percent of young people between the ages of 10 and 21 who are considered to be at risk for suicide have guns in their homes. The study is being presented Monday at the annual Pediatric Academic Societies meeting in Washington, following a symposium held Saturday that also addressed youth gun suicides, media violence, and gun violence prevention.
For the study, 524 patients were surveyed using a standard suicide assessment screening: 17 percent of the 151 patients determined to be suicide risks said they lived in a home with guns; 31 percent said they knew how to access the guns, and the same number said they knew how to access ammunition; 15 percent said they could get their hands on both.
According to the Centers for Disease Control and Prevention, suicide is the third leading cause of death of people between the ages of 10 and 24. Among that age group, guns are the top method of suicide. Research elsewhere suggests that having access to guns increases the likelihood that suicidal people will actually kill themselves.
In 1996, the National Rifle Association successfully lobbied for an amendment to an appropriations bill that gutted the CDC's gun violence research budget. "None of the funds made available for injury prevention and control…may be used to advocate or promote gun control," the amendment read. Since its passage, the agency has been almost entirely absent from gun research, leaving such studies up to others. This January, President Obama announced plans to direct the CDC to resume studying the causes and prevention of gun violence.
Gun rights advocates and groups like the NRA have continued to argue that gun violence studies are politically motivated, and might build a case for greater gun control. After the Tucson shooting in 2011, for instance, NRA chief lobbyist Chris Cox told the New York Times, "Our concern is not with legitimate medical science. Our concern is they were promoting the idea that gun ownership was a disease that needed to be eradicated." Some have even argued that Obama's move to restart the research is illegal.