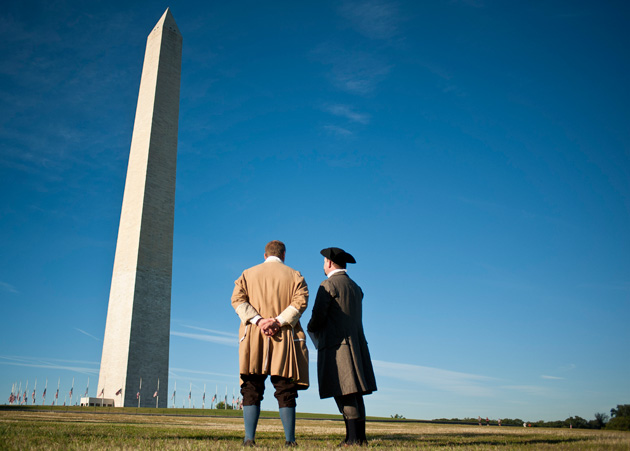 Fight disinformation:
Sign up
for the free
Mother Jones Daily
newsletter and follow the news that matters.
Virtually everyone in Washington agrees on at least one thing about the IRS scandal: The tax agency's trolling for tea party groups and giving extra scrutiny to their applications for nonprofit status was an egregious violation. Exactly how and why that conduct took place remains under investigation. But as conservatives in particular decry the IRS failure, it's also worth considering the dubious fiscal history of some tea party groups, including their pursuit of non-profit status. While the IRS had absolutely no business profiling any groups based on political criteria, it is not blaming the victim to observe that scrutiny was warranted in specific cases—and they include some major tea party outfits and their leaders, documents show.
Indeed, despite the tea party's emphasis on fiscal prudence in government, would-be nonprofit groups launched since the movement's rise in 2009 have left a trail of tax-code shenanigans, infighting, and fiscal irresponsibility. Money raised by some groups was spent frivolously, and in some cases in ways that appeared to flout the tax rules barring nonprofits from political activity. There have been lawsuits between competing organizations over money, and tea party groups have disintegrated because of financial and other mismanagement.
None of which is particularly surprising, given the deluge of fledgling groups. After the tea party movement took off in 2009, thousands of people around the country rushed to join in, many of them creating small nonprofit groups in their local areas. It didn't take long for infighting to set in and for claims of financial improprieties to fly—for example, there was the story of Saint Augustine Tea Party vs. Saint Augustine Tea Party Inc. Scuffles arose around the country as aspiring tea party groups saw money disappear or rules violated.
Since 2009, the Tea Party Patriots, a large national umbrella group, has claimed no fewer than 3,500 affiliates. Many applied for nonprofit status with the IRS, a prime reason the agency was so overwhelmed with applications. The people leading these groups were often neophytes politically and organizationally—or, as Dan Backer, a lawyer for TheTeaParty.net, explained in an interview with Mother Jones this week, "they didn't understand the complexity of what's involved."
Other tea partiers were part of a constellation of right-wing groups that seek to make money with fundraising appeals for conservative causes. And finally, some high-profile tea party leaders wrestled with personal tax problems before trying to start new political organizations.
Whether the IRS focused on any specific groups for any of these reasons is not clear. But here are some examples of these groups and why the IRS might have wanted to take a closer look at them:
True The Vote/King Street Patriots: True the Vote was among the active conservative groups that sought to police the polls during the 2010 and 2012 elections to root out alleged voter fraud. The group was created by the King Street Patriots, a Houston-based tea party organization and a 501(c)(4). But True the Vote is a 501(c)(3), a tax-exempt designation that allows a group's donors to write off their contributions but also has strict rules prohibiting electioneering and partisan political activity. True the Vote and King Street share board members and often co-sponsored events.
True the Vote trained volunteers to go into predominantly minority neighborhoods across the country and keep an eye on potential violations by presumed Democratic voters. Its activities drew accusations of voter intimidation; in Ohio, its volunteers were banned from Franklin County polling places amid allegations that it had forged signatures to secure poll-watcher status. In Texas, True the Vote's alleged partisan activity included a poll-watching guide instructing trainees to consult the Harris County Republican Party website for advice on voting rules, and the group only invited Republicans to its candidate forums.
Catherine Engelbrecht, True the Vote's president, is among those now complaining that her group was inappropriately targeted. "The IRS treatment of us lends to the appearance of a politically-motivated abuse of power and an assault on free speech," she told Breitbart News. (She did not respond to a request for comment.)
Engelbrecht has released a letter from the IRS requesting extensive documentation and information from True the Vote as part of its nonprofit application. But the IRS' requests point to concerns that critics have long raised about the organization. In 2010, an ethics complaint and lawsuit against King Street Patriots alleged illegal political activity, and last year a Texas judge agreed, ruling that the organization was not a nonprofit but in fact was operating like a political action committee and illegally helping the GOP. In August 2012, True the Vote donated $5,000 to the Republican State Leadership Committee, a 527 group that raised nearly $30 million dollars to elect GOP candidates in state legislatures.
TheTeaParty.net/Stop This Insanity: TheTeaParty.net/STI is a 501(c)(4) group incorporated in Arizona in early 2010 by Todd Cefaratti, who runs a "lead generation" company that provides contact information to reverse-mortgage companies, some of whose operations have been compared to those of the subprime lending industry. The group advertises under a number of variations on the tea party name, and some other tea partiers have complained almost from its inception that the group is nothing more than a data harvesting operation. (Cefaratti defended himself against the criticism in a long post here.) FEC filings show that a "leadership fund" set up by the group raised almost $1.2 million in 2012, and gave only $52,000 to candidates for federal office.
TheTeaParty.net/STI has not yet received non-profit status approval; Dan Backer, the group's lawyer, says he is now considering suing the IRS for targeting his clients. Yet, Backer also describes the group's founders as neophytes, and he acknowledges that some tea party groups may have run in to trouble trying to properly manage grassroots organizing around politics. "These are folks who are not lawyers, they're not part of the political establishment," he says. "In fact they deeply reject the political establishment, so they're trying to navigate a system designed by the establishment."
More than one aspect of TheTeaParty.net/STI's forays into politics might have triggered a closer look from the IRS. Its founders initially set up the group as both a 501(c)(4) and a political action committee that it registered with the FEC—as a single entity. That was a clear violation of the non-profit rules on political activity, as Backer himself acknowledged to me. (The group eventually shut down the PAC.) In 2012, when the group sought to create a "leadership fund" in hopes of collecting unlimited campaign contributions, it ran afoul of federal campaign finance rules; it ended up suing the FEC, arguing that the agency should be prevented from enforcing those laws against it (and it lost).
Tea Party Patriots: One of the largest tea party umbrella groups that formed as a 501(c)(4), it was co-founded by Mark Meckler, a former high-level distributor for Herbalife, a multilevel marketing company that has repeatedly been accused of operating in a manner similar to a pyramid scheme. (Meckler, who left TPP in February 2012, has long refused to talk to Mother Jones and never responded to requests for comment on his past business enterprise when we first exposed it in 2010.) In 2009, the organization raised $12 million in fiscal 2010. But only about $3 million of that went to its "social welfare" mission, according to an IRS 990 form filed in May 2012. Millions more went to professional telemarketing firms, which in some cases cost more than they raised; extensive travel costs; and legal fees incurred as the group sued competitors over its claim to own the "tea party" franchise.
Some conservative leaders came to the tea party with significant tax or financial problems of their own. Another TPP founder is Jenny Beth Martin, a Georgia-based political activist. When she started TPP in 2009, her husband Lee Martin had a half-million dollars in federal tax liens against him; he went on to serve as the group's "assistant secretary" in 2010 and 2011 and was intimately involved with the group's financial management.
Other tea party leaders with tax problems include:
Michael Patrick Leahy, a management consultant who organized the National Tea Party Coalition, had $150,000 worth of IRS tax liens and court judgments to his name.
Judson Phillips, the founder of the (for-profit) Tea Party Nation filed for bankruptcy in 1999, and had $22,000 in federal tax liens in his past. After Tea Party Nation planned a July 2010 tea party convention in Las Vegas and then canceled due to lack of interest, the organization stiffed the Venetian Hotel for more than 1,500 rooms it had reserved. That resulted in a judge ordering the organization to repay the hotel nearly $750,000.
And then there was tea partier Christine O'Donnell, the Senate candidate from Delaware whose IRS tax lien for nearly $12,000 came to light during her 2010 campaign.
Conservatives now say there was a partisan motive behind the IRS targeting of tea party groups. (An Inspector General's report released Tuesday did not find any evidence to that effect.) As evidence, they point to a lack of similar scrutiny directed at liberal groups. But it is also true that the tea party movement does not have an equivalent on the left; the Occupy Wall Street movement, perhaps the closest parallel, did not receive financial support on the scale that tea party organizations did, nor did it spawn legions of aspiring tax-exempt groups. When Occupy groups did seek out formal structure, they tended to use the traditional charitable 501(c)(3) status, which bars all political activity.
The tea partiers, on the other hand, went for the c(4) designation for political non-profit organizations, helping make them the focus, as we now know, of IRS staffers.