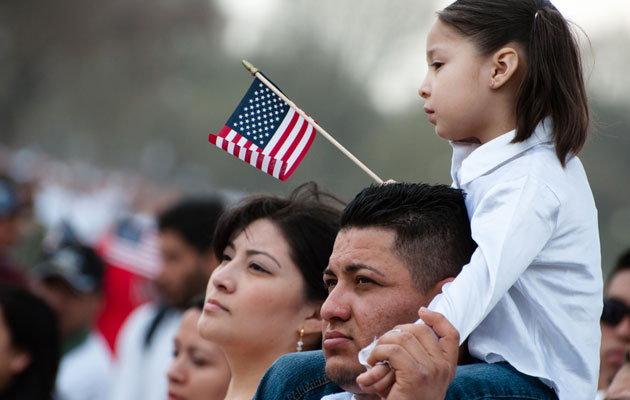 Fight disinformation:
Sign up
for the free
Mother Jones Daily
newsletter and follow the news that matters.
With immigration reform set to hit the Senate floor next week, members of the bipartisan Gang of Eight are working mightily to keep the delicate process from imploding. The bill is lurching rightward as this group of lawmakers tries to coax conservative votes. Their goal is not just to secure the bill's passage, but also to send a strong signal of bipartisan support. They hope a decisive victory in the Senate would spur action in the GOP-controlled House, where talks have repeatedly faltered. Gang of Eight member Sen. Chuck Schumer (D-N.Y.) has said they're aiming for a 70-vote majority, but at present he and his compatriots have less than the 60 votes needed to overcome a filibuster. And Sen. Marco Rubio (R-Fla.), a fellow G-of-8er, has said that he will not vote for the bill in its current form. Numerous disputes could blow up the immigration reform effort, and here's a look at some of the most contentious matters confronting lawmakers.
Health care: House Republicans have repeatedly tripped up talks with Democrats over the Affordable Care Act's relationship to immigration; GOPers want to ensure that Democrats won't grant newly legalized immigrants access to government health care during their 13- to 15-year pathway to citizenship. As the Senate bill stands now, the 11 million undocumented immigrants who could be granted provisional status wouldn't be eligible for ACA subsidies (though they could purchase their own insurance through the exchanges established by the health care law). This would create a large loophole for businesses with 50 or more employees that don't want to provide insurance. They could hire previously undocumented immigrants, not provide them health care, and not face an annual fine of up to $3,000 per employee for denying care. That could make it attractive for businesses to hire immigrants with provisional status instead of American citizens. Senators on both sides of the aisle plan to tackle the issue.
Other benefits: It's not only health care subsidies that conservatives want to deny immigrants. Last month, Senate Judiciary Committee Democrats rejected an amendment from Sen. Jeff Sessions (R-Ala.) that would have prevented immigrants with provisional legal status from receiving earned income tax credits, a refundable tax credit for lower-income Americans. But Schumer has suggested that a Senate floor amendment to restrict the credits could serve as a bargaining chip rather than a deal-breaker. Last week, Sen. Orrin Hatch (R-Utah) told a local news station that four of his finance amendments, including one to prohibit immigrants from counting time they worked while undocumented to determine whether they qualify for disability insurance payments, would have to be added to the bill to "make it so it will pass."
Border control: Congressional conservatives don't think border security has been adequately addressed; a quartet of Senate Republicans penned an open letter on Tuesday dismissing the current bill's measures as "gimmicks" and "empty promises." Rubio, considered a key player in securing conservative votes in the Senate, has been discussing this matter with Sen. John Cornyn (R-Texas), one of the many Republicans who believes the border security provisions are not stringent enough. Cornyn has proposed implementing surveillance along the entire Mexican border, adding 10,000 new border patrol officers, and setting up a national electronic employment eligibility system to make it more difficult for immigrants to apply for permanent residency. Democrats have rejected his plan.
Biometrics: Another contentious border security measure is an expanded biometric tracking system that would keep tabs on an increased number of visa holders who leave the country by storing identifying characteristics like fingerprints in a Department of Homeland Security database. The Senate Judiciary Committee last month passed an amendment introduced by Hatch to implement fingerprinting at the 10 busiest international airports. But Republicans (and some Democrats) want to expand this further, and Sessions introduced a controversial amendment to widen the biometrics system and apply it to all air, land, and sea ports. That would come at an enormous cost—up to $6.4 billion for airports alone. Committee Democrats, joined by two Republicans, rejected Sessions' amendment due to cost concerns.
Gun control: Sen. Richard Blumenthal, a Connecticut Democrat and key advocate for families of the victims of the Newtown shooting, wants to increase restrictions on immigrants' access to guns. But because of the heated nature of the Senate's recent gun debate, Blumenthal didn't offer any such amendments during the Judiciary Committee recent consideration of the bill. He's still "seriously considering" introducing them on the Senate floor, however. If he does, expect a distracting reprise of the fractious gun control debate.
Gay rights: Because it would probably sink the bill, the Judiciary Committee rejected a measure to allow foreign-born partners in same-sex relationships to petition for legal residency. Democrats and gay rights advocates are considering introducing a similar amendment during the Senate floor debate. That could gum up the works; conservative backers of the bill have threatened to bolt if it is amended to cover gay partners. But this issue could become moot. If the Supreme Court strikes down the Defense of Marriage Act later this month, same-sex immigrant couples would likely be eligible to petition for green cards just as straight couples can.
In the end, senators "need to find the sweet spot of workability and support for the bill so it has well over 60 votes," says Angela Kelley, an immigration expert at the liberal Center for American Progress. But, she adds, immigration reform groups don't want to see the Senate "secure a yes vote at the expense of the bill not working," just for the sake of appeasing congressional conservatives. Schumer said he expects a comprehensive, bipartisan immigration reform bill to pass the Senate by July 4.