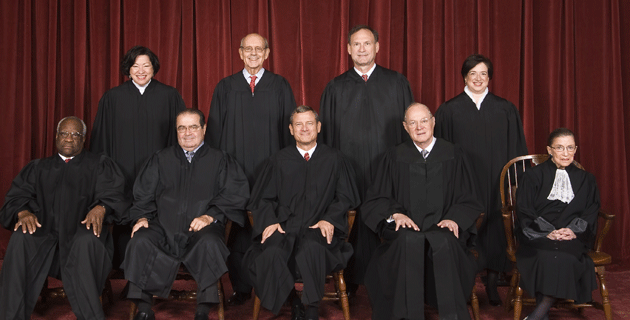 Fight disinformation:
Sign up
for the free
Mother Jones Daily
newsletter and follow the news that matters.
?Virginia "Ginni" Thomas, the wife of Supreme Court Justice Clarence Thomas, has been in the news recently after Mother Jones revealed her involvement in Groundswell, a secret effort by a group of conservatives to organize their fight against liberals, mainstream Republicans, and Karl Rove. Her political activity has once again raised questions about whether she is creating conflicts of interest for her husband, and whether he should be forced to recuse himself from cases that involve Ginni's work.
Such calls for Thomas to recuse from cases hit a fevered pitch when the Affordable Care Act was before the high court and Ginni was actively lobbying against it. As it turned out, there's no mechanism for concerned citizens to complain about a Supreme Court justice, or even a clear set of rules that the justices must follow in making recusal decisions. Supreme Court justices are exempt from the Code of Conduct for United State Judges, the rulebook that every other federal judge in the country has to follow.
That code would have prohibited the justices from a number of controversial activities the Supreme Court has engaged in over the past few years. In 2011, for instance, Thomas and Justice Antonin Scalia headlined a fundraiser for the conservative legal group, the Federalist Society. Ordinary federal judges couldn't have done that. Both also have attended hush-hush political events hosted by Koch Industries that are billed as efforts "to review strategies for combating the multitude of public policies that threaten to destroy America as we know it." Koch Industries is owned by the right-wing Koch family that's been dumping millions of dollars in the Republican politics, particularly after the court decided in Citizens United to allow unlimited corporate money into the electoral system. The code also requires federal judges to recuse themselves from cases in which a spouse or family member has a financial interest, a rule that might apply to the Thomases.
Several members have decided to try to do something about the appearance of impropriety by some of the justices. On Thursday, Rep. Louise Slaughter (D-NY), Sen. Richard Blumenthal (D-CT), Sen. Chris Murhpy (D-CT), and Sen. Sheldon Whitehouse (D-RI), plan to introduce the Supreme Court Ethics Act of 2012 that would force the high court to adopt an ethics code much like the one that binds lower court judges. The idea has support from legal scholars, who've been urging the court to adopt such a code since last year. More than 125,000 people have signed a petition calling on Chief Justice John Roberts Jr. to apply the Code of Conduct to the court. But Roberts has been pretty adamant that he thinks the justices are perfectly capable of policing themselves without the need for silly codes (codes which most of the sitting justices once had to abide by on a lower court).
Without buy-in from Roberts, any attempt, even by Congress, to require the justices to give themselves a written code of ethics is probably a tough sell. The new bill, if it could even pass through the full Congress (also doubtful), could set off an epic separation of powers battle between the two branches of government. A spokesman from Slaughter's office says that the bill is absolutely constitutional, as Congress has the authority to regulate the administration of the court—setting the number of justices and whatnot. Still, it's possible that the court could put up a fight—a fight that might ultimately have to be decided by….the Supreme Court.