Fight disinformation:
Sign up
for the free
Mother Jones Daily
newsletter and follow the news that matters.
The Senate's Gang of Eight won a major battle for comprehensive immigration reform Thursday, getting its compromise bill through after months of debate and occasional internal strife. The gang's work calls to mind another famous team of disparate personalities who came together to produce a groundbreaking work 20 years earlier. I'm talking, of course, about the Wu-Tang Clan. While the Gang of Eight members have yet to see Killa Bee status, at least their bill now only has to make it through one chamber, not 36. Check out each senator's Wu-Tang doppelgänger.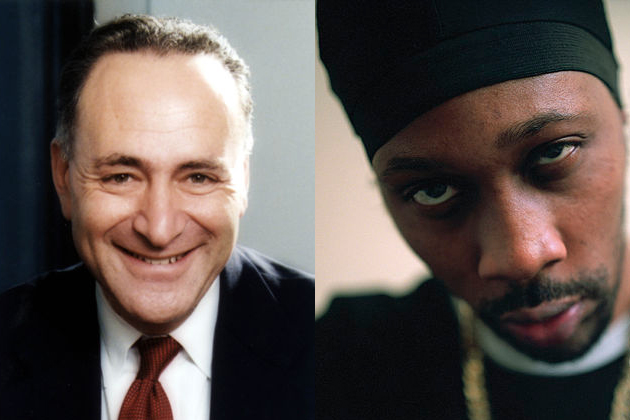 Chuck Schumer / RZA
Schumer (D-N.Y.) has taken the lead on immigration reform, with the New York Daily News calling him the bill's "broker, dealmaker, adviser and shaman." Schumer is also the one who formally introduced the bill to the Senate, with every other gang member's name listed after his. RZA is the Wu-Tang Clan's leader, producing the group's albums as well as many of its members' solo efforts. Schumer is a notorious publicity hound, with Bob Dole once saying the most dangerous place in DC is between Chuck and a camera. RZA, meanwhile, has been shooting and acting in films since 1999, most recently writing, directing, and starring in The Man with the Iron Fists.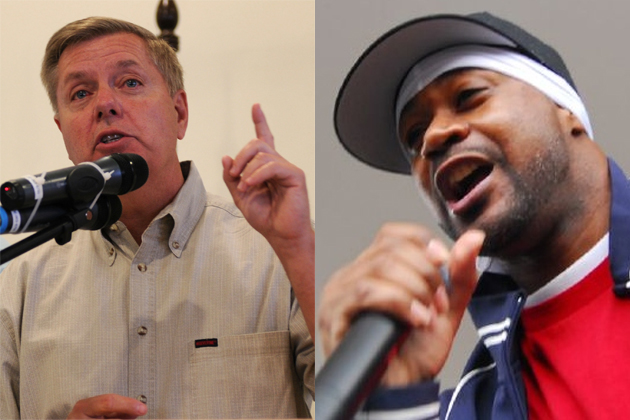 Lindsey Graham / Ghostface Killah
The South Carolina Republican is instrumental to immigration reform, providing the gang with a prominent conservative figure. Ghostface, a former roommate of the RZA, helped bring together the Clan. Similarly, Graham, who worked with Schumer previously on immigration issues, helped recruit some of the gang's other Republican members. Ghostface's second solo album, Supreme Clientele, has been credited with saving the Wu-Tang image. Graham will look to secure his own gang's credibility by fighting for immigration reform in the House—although a Republican backlash is already forming.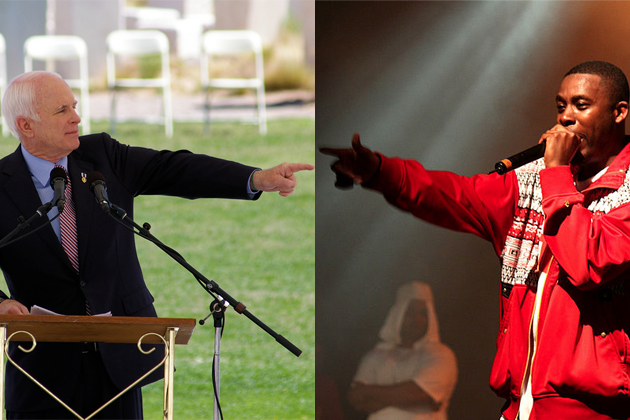 John McCain / GZA
GZA is the oldest and most experienced member of the Clan, having put out a record before the group even formed. McCain (R-Ariz.), too, has been there before. He advocated for an expanded visa program during his 2000 presidential run and worked with Ted Kennedy on an ill-fated immigration reform act that provided a blueprint for later efforts. While McCain's debate experience means he might hold his own in an iron mic duel, no evidence suggests he could best the GZA at chess.
Dick Durbin / Inspectah Deck
Inspectah Deck was Wu-Tang's more measured member, keeping a laid-back attitude in sharp contrast with some of his fellow Clan members. He was still a major part of the group's first few albums, however, dropping major verses while staying largely outside the spotlight.
While Durbin (D-Ill.) doesn't garner as much attention as gang members Schumer or McCain, he remains the Senate's majority whip, with his relative national anonymity masking a great deal of behind-the-scenes power.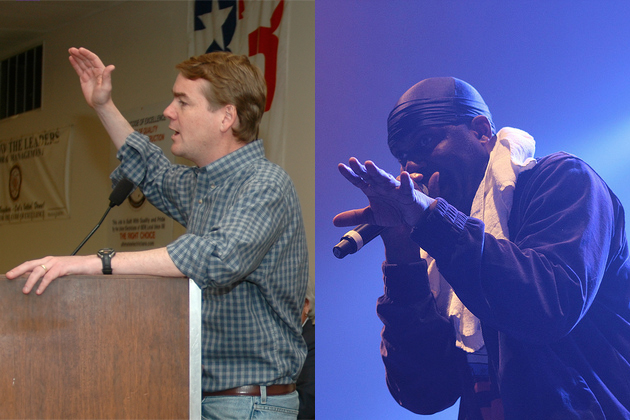 Michael Bennet / Masta Killa
Bennet (D-Colo.) is new to Congress, having been the superintendent of Denver schools before he was appointed to fill former Secretary of the Interior Ken Salazar's Senatorial seat in 2009. He dove right into immigration reform, though, cosponsoring the DREAM Act before joining the Gang of Eight late last year. Like Bennet, Masta Killa was the most inexperienced member of his clan, and admitted he had never even performed before joining. He was also the last member to put out a solo album, releasing the critically acclaimed No Said Date in 2004.
Marco Rubio / Method Man
Both Rubio (R-Fla.) and Method Man were the young breakout stars of their respective groups. Rubio has garnered plenty of media attention for his work on immigration reform, with many observers pointing to it as a step in his eventual presidential run. Method Man got his own track on the Wu-Tang debut before he became the first Clan member to go solo with the platinum-selling Tical. It remains to be seen whether Rubio can achieve Meth's level of success, though if things go south he could always team up with Bill Nelson (D-Fla.) for a Fox sitcom.
Bob Menendez / Ol' Dirty Bastard
Menendez, a powerful New Jersey Democrat, has been the subject of numerous allegations throughout his Senate tenure—some imagined and some less so. Likewise, ODB's exploits were the stuff of legend, from robbery and drug charges to a run from the law that ended at a Philly McDonald's. Many of the tales passed down about ODB since his 2004 death are exaggerated or untrue, yet despite (or perhaps because of) them he is one of the Clan's most beloved members. Menendez, likewise, retained his seat in last year's election by nearly 20 points.
Jeff Flake / Raekwon
Esquire named Jeff Flake (R-Ariz.) one of the 10 best members of Congress in 2008, when he was still in the House. Raekwon's solo debut, Only Built 4 Cuban Linx…, has been called one of the best Wu-Tang solo records and ranked among the greatest albums of all time. Despite the acclaim, he hasn't reached the popularity or album sales of fellow Clan members like Method Man and Ghostface Killah. While Raekwon's stock is rising, thanks in part to his collaboration with Kanye West, Flake has seen his own popularity drop after he voted against background checks for gun owners.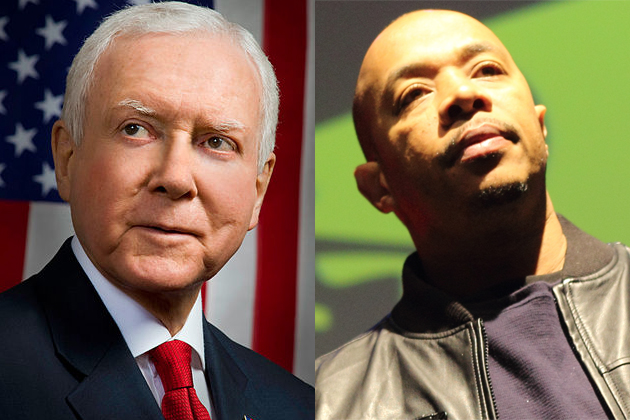 BONUS: Orrin Hatch / U-God
While not a member of the Gang of Eight, Hatch (R-Utah) played a pivotal role in immigration reform by voting it out of the Judiciary Committee and supporting it on the floor. He clashed with the gang members on occasion, though, offering a series of amendments that were hard to stomach for Democrats like Durbin. U-God, a founding Clan member, ended up suing the Wu-Tang Music Group in 2008, claiming he was owed $170,000 for his work on 8 Diagrams. Like Hatch, he was able to patch things up and remains tight with the group.
This post has been revised.