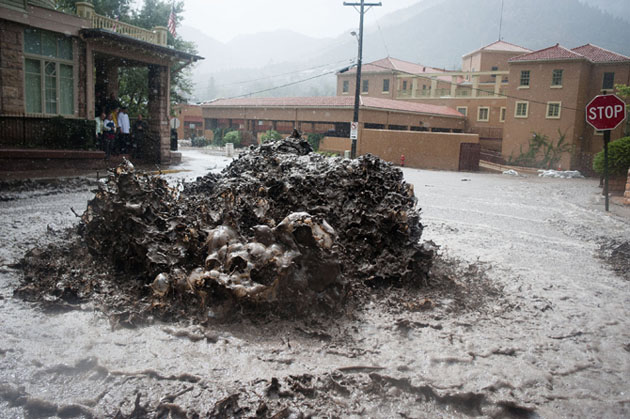 Heavy rains falling in the Front Range of Colorado this week have left at least three people dead, authorities say. Up to six inches of rain fell in 12 hours overnight on Wednesday and into Thursday morning, augmenting what had already been a rainy month in the area and leading to dangerous flash floods that are expected to continue through the weekend. Colorado governor John Hickenlooper called it "the largest storm that I can imagine in the state's history."
A spokesman from the US Geological Survey says the this is a 100-year flood, meaning that flooding at this level in the area takes place once every 100 years, according to the Denver Post—though others say it could even be a "a 500- to 1000-year event."
The rain brought the water, but wildfires in Colorado from recent years have made the flooding worse than it would have been otherwise, experts say. "When you have a dense forest with undergrowth, you have plants and things to trap moisture and rain," Kari Bowen, a meteorologist with the National Weather Service (NWS) office in Boulder, told LiveScience. "But when it's gone, you have nothing to catch it."
The rain continued Thursday, making it difficult (and in some cases impossible) for rescuers to reach flood-stricken towns. In the video below, from CBS4 in Denver, rescue crews pull a man from a car that has been overturned near Lafayette, Colorado, where rock slides and flash flooding collapsed homes, put dams at risk, and forced hundreds of people to evacuate.
The graph below shoes water flowing from Fourmile creek over the past week in Orodell, Colorado, west of Boulder: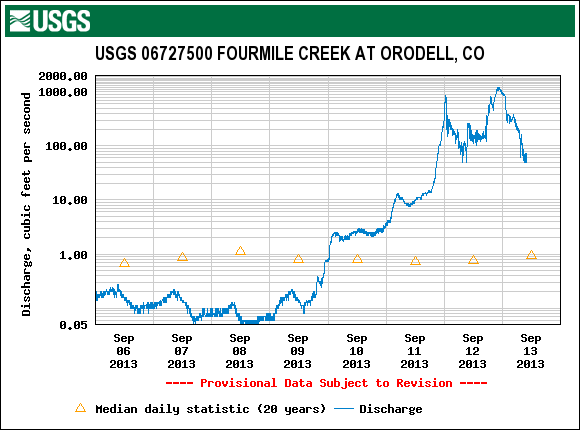 Below is the gage height of the same river, which reflects the amount of water flowing through it:
The University of Colorado-Boulder has evacuated more than 350 people from university housing and reports that 25 percent of the buildings on campus have sustained damage so far, according to the Weather Channel.
The flooding cut off almost all roads to Boulder, according to the Denver Post, and many roads in the city are impassable.
USA Today reports that officials expect more rain, and probably more flooding, over the weekend.
This story has been updated since publication.