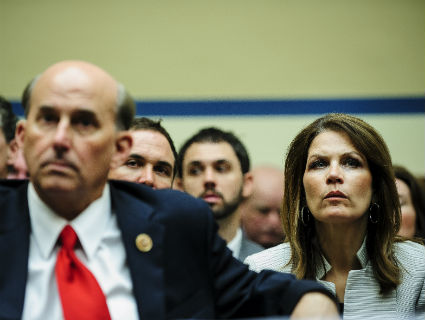 Fight disinformation:
Sign up
for the free
Mother Jones Daily
newsletter and follow the news that matters.
Rep. Thomas Massie, the Hayek-quoting, trouble-making first-term Republican congressman from northern Kentucky, stood in a circle of reporters in the Capitol basement and shrugged. "Goose egg—we got nothing." That was his summation of what House Republicans had accomplished, after shutting down the federal government for 15 days, costing $24 billion in economic losses, and bringing the nation to the brink of an unprecedented default.
After the Senate voted 81 to 18 to approve a bill to raise the debt ceiling and fund the federal government, the House followed suit late Wednesday night, with 87 Republicans joining the entire Democratic caucus in support of the measure, one that included none of the original tea party demands to delay or defund Obamacare. In a statement, President Obama expressed his wish that Washington "put the last three weeks behind us."
Still, Massie had no regrets. "I don't see any credence to the argument that we would have been better off without the fight," he said, "because nobody can tell me what we'd have now that we don't have."
Among House Republicans on Wednesday night, Massie's attitude was hardly an outlier.
Asked if the shutdown and debt fight had been worth, Rep. Michele Bachmann (R-Minn.) didn't blink: "Absolutely, I think it's worth it! It's been worth it because what we did is we fought the right fight." Rep. Louie Gohmert (R-Texas) argued that the House's intransigence was ultimately critical to America's survival. "For this government to continue as a republican form of democracy, we've got to have both houses contribute, not one," he said before hopping on an elevator.
One reason why some Republican lawmakers aren't running away from the next battle? They're not so sure they were the ones responsible for this one. "The House of Representatives didn't shut the government down—we passed bills to try to deal with the underlying health care problem as well as the underlying debt and deficit problem," said Rep. Jeff Fortenberry (R-Neb.), when asked for his critique of his leadership's tactics. "It's important for a distinction that this was not a decision to shut the government down."
Rep. Tim Huelskamp (R-Kan.), who insisted in recent days that Treasury Secretary Jack Lew was deliberately fudging the facts about the debt ceiling, said he never supported a shutdown to begin with, but the administration had decided to jump off the cliff itself. "Would he want that again?" Huelskamp said of the president. "I don't know."
"This whole fight was completely preventable," added Bachmann, who recently told a biblical prophecy radio program that we are living in the End Times. "The problem is the administration said early on they were willing to see the American government go into default so they could have their agenda—that's what the gambled on." Republicans, however "are not willing to risk the full faith and credit of the United States."
The #yolo attitude of the conservative firebrands who helped push the party into the crises of the last two weeks is important because the new budget and debt ceiling framework is just a short-term fix. Congress will have to approve a new continuing budget resolution by mid-January, and another debt ceiling increase before February 7. And some members aren't optimistic things will improve much by then. "It's a bad deal," said Rep. Joe Barton (R-Texas). So did he think we'd be back here in this same situation in a few months? Barton didn't hesitate: "Yes."
On Wednesday night, old-guard Republicans in the Senate could only shake their heads at the die-hards in the lower chamber. "There's an old adage: There's nothing to be learned from the second kick of a mule," mused Sen. Bob Corker (R-Tenn.), shortly after voting in favor of the package. "Maybe there's been a little bit of education—we'll see."