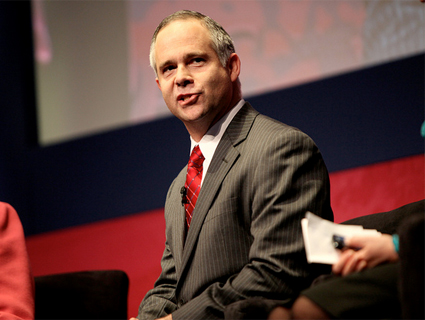 Facts matter:
Sign up
for the free
Mother Jones Daily
newsletter.
Support
our nonprofit reporting.
Subscribe
to our print magazine.
Rep. Tim Huelskamp (R-Kan.) has come up with a historical parallel to the first two weeks of the Affordable Care Act's healthcare exchanges: FEMA's handling of Hurricane Katrina, the storm that cost 2,000 lives in New Orleans and the Gulf Coast in 2005.
"We're back at the same place we were before, which is that Obamacare's unworkable," Huelskamp told reporters after exiting the House Republican conference meeting on Wednesday. "The president's statements in support of [Secretary of Health and Human Services Kathleen] Sebelius seem awfully, eerily similar to George W. Bush saying [ to then-FEMA director Mike Brown] 'Brownie, you're doing a heckuva job' during Katrina. And to say this is rollout is much different than Hurricane Katrina, they're very similar."
Republicans have previously compared Hurricane Katrina to Superstorm Sandy, the IRS scandal, the 2010 Deepwater Horizon oil spill, the Fort Hood shootings, the Haiti earthquake, the GM bailout, and the underwear bomber. Huelskamp, a second-term tea party Republican, has been a vocal critic of the Affordable Care Act exchanges, posting regular updates on Twitter and his House website on his failure to create his own HealthCare.gov account. But he suggested that the road ahead would become more difficult for Obamacare opponents once the law's Medicaid expansion takes into effect in certain states on January 1 and complicate future defunding efforts: "I don't think it's too late, but I'll have to think about what the implication is. January 1 is a big date."