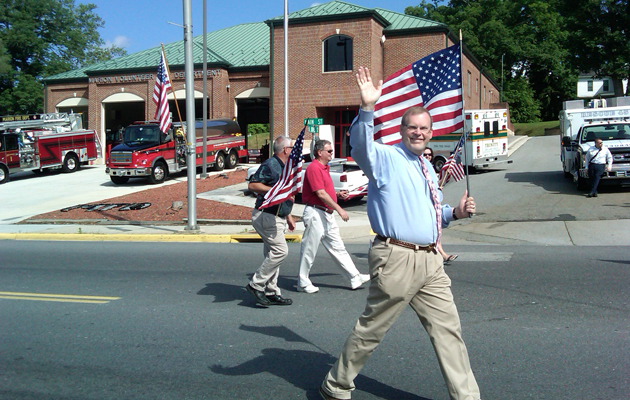 Fight disinformation:
Sign up
for the free
Mother Jones Daily
newsletter and follow the news that matters.
Congratulations, Rep. Morgan Griffith (R-Va.): You just said the most ridiculous thing anyone in the House of Representatives has uttered about the debt ceiling in…at least a few days. Griffith, asked by the Capitol Hill daily The Hill about the urgency of raising the debt ceiling, suggested the nation might be better off if it defaulted—even if that triggered a new recession and perhaps a global economic crisis—than if it continued to spend money at the current rate. He's not the only Republican congressman to make this claim (Rep. Ted Yoho (R-Fla.) suggested a default would calm global markets). But Griffith's spin was, to put it charitably, unique:
We have to make a decision that's right long-term for the United States, and what may be distasteful, unpleasant and not appropriate in the short run may be something that has to be done. I will remind you that this group of renegades that decided that they wanted to break from the crown in 1776 did great damage to the economy of the colonies. They created the greatest nation and the best form of government, but they did damage to the economy in the short run.
This is an absolutely backward understanding of US history. Breaking away from Great Britain was indeed a hugely disruptive economic event—so much so that it almost proved to be the nation's undoing. States were swimming in debt and unable to pay soldiers, who in turn staged open rebellions, which, in turn, prompted politicians to get together to come up with a better governing document.
The central problem was that the nation had basically no access to credit, because it was $77 million in debt with no real means to pay it back. (It owed about $12 million of that to foreign creditors.) The solution, as outlined in Treasury Secretary Alexander Hamilton's First Report on the Public Credit, was to absorb all state-level debts (totaling about $25 million), issue new bonds to fund the federal government and allow it to start borrowing money again, and then raise tariffs to pay off the debt.
Griffith's right that the revolution caused an economic mess, but he should've read the next chapter in his history book—America didn't get out of that economic mess until it had demonstrated to foreign creditors it was good on its word. Whether that's still the case is up to Griffith and his colleagues.