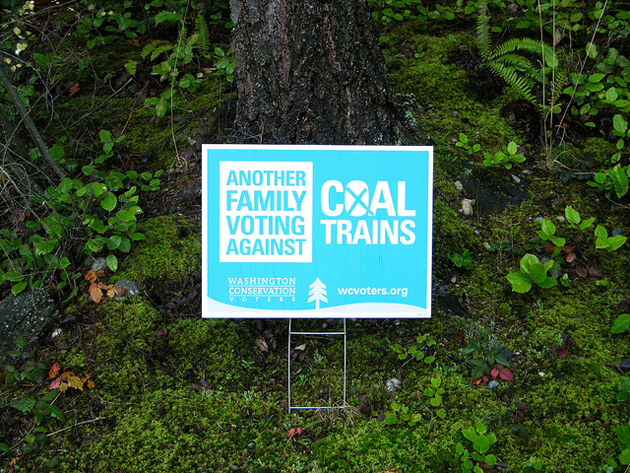 Fight disinformation:
Sign up
for the free
Mother Jones Daily
newsletter and follow the news that matters.
Last week, the Whatcom County Council in northwestern Washington voted to buy six new SUVs for the local Sheriff's Department and introduced its annual road construction plan. These were significant developments in this sleepy rural enclave of scarcely 200,000 people, but nothing compared to what's on the horizon: A proposal to build the largest coal export terminal on the West Coast, capable of annually shipping a whopping 48 million tons of Montana and Wyoming coal to Asia.
Its role in deciding the fate of Peabody Coal's proposed $700-million Gateway Pacific Terminal has thrust the unassuming Whatcom County Council into the national political spotlight. The coal industry sees the export terminal as a lifeline from sinking domestic sales. Environmental groups view it as the worst climate threat since the Keystone XL pipeline. Each side is backing its own Whatcom County Council candidates in a November 5th election that has become an expensive proxy fight in the global war over the future of coal.
The money pouring into four council seat races dwarfs anything ever seen in this county of lumberjacks, farmers, and banana slugs. Compared to fundraising during the last county election in 2011, money raised by council candidates and their allies has increased more than seven-fold, to roughly $1 million. Much of it comes from fossil fuel interests such as Cloud Peak Energy and Global Coal Sales, and, on the other side, from A-list environmentalists such as California billionaire Tom Steyer.
Backers of the Gateway Pacific Terminal claim it will create 4,400 construction-related jobs and 1,250 permanent positions at the docks and in associated professions—no small thing in a county where the unemployment rate is fifty percent higher than it was six years ago. Yet environmental groups warn of endless pollution-spewing coal trains passing in the vicinity of Bellingham, the liberal college town near where Peabody wants to load cargo ships with coal bound for China. The council will likely vote to approve or deny the coal terminal sometime in the next two years.
As it stands, four or five of the seven council members are believed to support the terminal. So environmental groups want to flip one or two of the seats and coal companies want to stop them. But here's where things get weird, explains Brian Rosenthal of the Seattle Times:
The word "believed" is necessary because of one more quirk in this unusual election: In largely rural Whatcom County, council members have quasi-judicial duties and are supposed to remain impartial about matters that might come before them in the future.

So the candidates have avoided giving specific opinions about the coal terminal, instead offering code words like "proven environmental values" and "committed to creating jobs."
If that approach sounds familiar, it's probably because state and national politicians often do the same thing—though, admittedly, not often during an extended meet-and-greet with a handful of passerby in a small-town Indian casino, flanked by poker tables and slot machines.