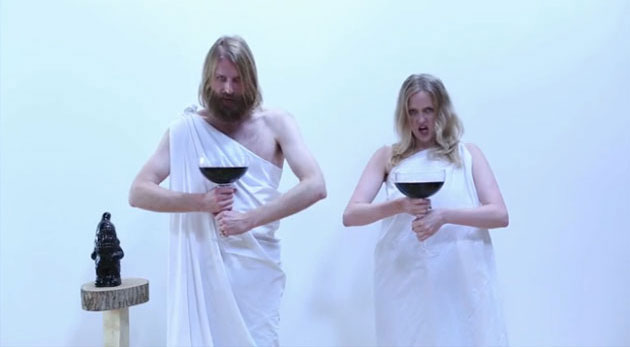 Fight disinformation:
Sign up
for the free
Mother Jones Daily
newsletter and follow the news that matters.
Last Tuesday in the basement of a bar in San Francisco's Financial District, more than 50 people united to celebrate the universe's godlessness. The group—mostly white, mostly hipster, and one kilt-wearer—congregated over drinks as pop-electronica played in the background. It was San Francisco's first-ever gathering of the Sunday Assembly, a recently formed organization of atheists who want to participate in "all the best bits of church" but without the believing in God part, according to the Assembly's co-founder and event facilitator, British comedian Sanderson Jones.
The only prayers to be heard at the event were during a karaoke-style sing-along to Bon Jovi's "Livin' on a Prayer." Later in the evening came a YouTube viewing of Carl Sagan's atheist anthem, "Pale Blue Dot."
Although 'atheist' is defined as a person who does not believe in God, "14 percent of those who call themselves atheists also say they believe in God or a universal spirit."
The Assembly was the idea of Jones, who wore a plaid shirt, a long, scruffy beard and and thick-framed black aviator glasses to the meeting, and his friend and fellow British comic, Pippa Evans, who wasn't in attendance. The two founded the Assembly to create a global community based on the belief that "we are born from nothing and go to nothing," according to the group's website. The Assembly—which has been called by Salon and Time an 'atheist mega-church'—is currently traveling around the world on its road show. The meetings have already attracted hundreds of attendees and a barrage of media coverage.
Sanderson says that the group has already gotten some flack from "fundamentalist, evangelical" atheists, as he put it, who've told him "the way we don't believe in God is not the right way to not believe in God." There is some evidence that atheism is becoming slightly more popular in the United States: In 2012 an estimated 2.4 percent of Americans said they were atheists, up from 1.6 percent in 2007. However, according to the Pew Research Center, the meaning of the word atheist is a source of confusion: Although 'atheist' is defined as a person who does not believe in God, "14 percent of those who call themselves atheists also say they believe in God or a universal spirit."
Although San Francisco's Sunday Assembly did have some serious moments—including a speech by Pixar's Daniel McCoy about how, like science, storytelling can reveal truth—the overall tone was light and tailored to the crowd, with plenty of Twitter and tech jokes. Sanderson and Evans believe that Sunday Assembly's tongue-in-cheek tone is part of what will attract followers. At one point during their crowd-funding campaign video, the duo assures viewers that Kool-Aid will not be involved and that "It's not a cult!" Though, they admit while wearing togas and carrying large glasses of wine, "That's exactly what we'd say if it were a cult."