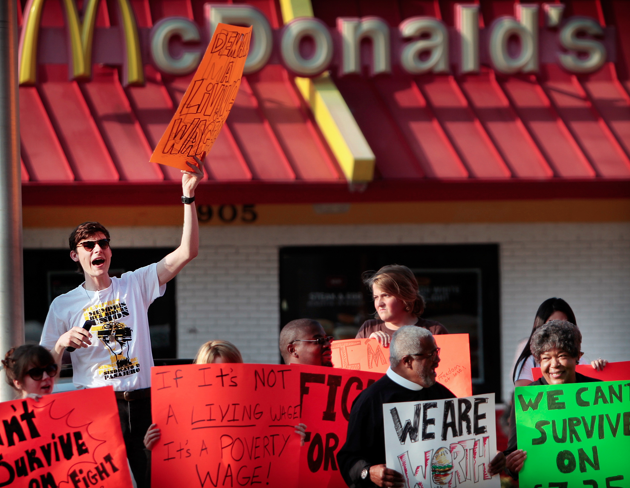 Fight disinformation:
Sign up
for the free
Mother Jones Daily
newsletter and follow the news that matters.
Labor Secretary Tom Perez has taken a lead role in President Barack Obama's push to increase the federal minimum wage. The fast food industry is one of the nation's largest employers of low- and minimum-wage workers. So why has the labor secretary brought on a top McDonald's PR person as a senior adviser?
Ofelia Casillas worked as a national media relations manager for McDonald's until she was hired as Perez' director of public outreach. At McDonald's, Casillas was in charge of overseeing "media crises" for the company. That would include the wave of fast-food strikes designed to draw attention to poverty wages. McDonald's average wage is $7.81 an hour.
During a national strike in August, in which workers were demanding that fast-food joints pay a $15 minimum wage, Casillas told Bloomberg that the strikers were not "providing an accurate picture of what it means to work at McDonald's."
At the Department of Labor, Casillas will be meeting with business and community groups about the secretary's policy priorities, one of which is raising the minimum wage. That means she will inevitably be dealing with companies like McDonald's as well as the striking fast-food workers, says Craig Holman, a government ethics expert at the consumer watchdog Public Citizen. Her previous work for McDonald's could color how she presents their concerns to Perez, he argues, which means there is "clearly an appearance of a conflict of interest."
(The White House did not respond to a request for comment. The SEIU, which has helped organize the national movement of fast-food strikes, and the AFL-CIO, which is active in the minimum wage fight, declined to comment, as did Berlin Rosen, a public relations firm promoting the SEIU's Fast Food Forward Campaign.)
Carl Fillichio, senior communications adviser at the DoL, says the hire does not represent a contradiction. "The Secretary is committed to raising the minimum wage and so is the Obama administration," he says. Fillichio notes that prior to her job at McDonald's, Casillas was a regional press secretary for the Obama campaign, and before that she worked at the American Civil Liberties Union. At the DoL, she does not influence policy, he adds, but merely serves as a liaison between the labor secretary and outside groups.
Critics are not convinced. "If she's a gatekeeper for who [the DoL] is meeting with, that's a problem," says a top organizer in the minimum-wage fight who did not want to be identified. He adds that McDonald's officials clearly don't have an "understanding of where workers are… [The hire] certainly sends a troubling message."