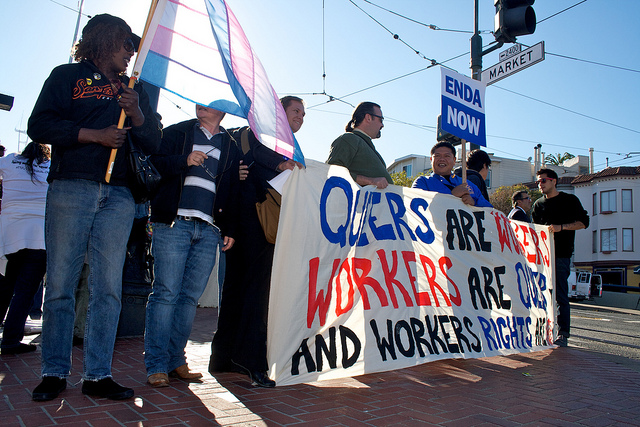 Fight disinformation:
Sign up
for the free
Mother Jones Daily
newsletter and follow the news that matters.
LGBT rights advocates celebrated last month when the Senate passed the Employment Non-Discrimination Act, legislation that would ban employers from taking their workers' sexual orientation and identity into account. The bill even garnered votes from 10 Republican senators, a sign of a possible emerging bipartisan accord. But that triumph was short lived. House Speaker John Boehner (R-Ohio) opposes ENDA and says he has no intention of letting it receive a vote.
Not all of Boehner's Republican colleagues agree with his take. A coalition of five Republicans and five Democrats from the House penned a letter to Boehner this week urging him to at least allow a vote on ENDA. "As cosponsors of H.R. 1755 – the House's companion legislation, we respectfully encourage you to bring this timely and commonsense legislation to a vote before the House of Representatives before the end of the 113th Congress," the letter reads. "An innate sense of fairness compels our country to rise above all forms of workplace discrimination."
The list of Republican signees isn't too surprising. Reps. Charlie Dent (R-Pa.), Ileana Ros-Lehtinen (R-Fla.), Richard Hanna (R-N.Y.), Jon Runyan (R-N.J.), and Chris Gibson (R-N.Y.) all hail from purple or blue states and are among the most moderate members of the House Republican caucus. But they have their party's best interest at heart. A poll from last month found that a majority of voters want Congress to pass ENDA—not just voters countrywide, but in every single congressional district. "It seems to me that this legislation is fair, it's reasonable, and it is broadly supported by the American public," Dent, one of the bill's Republican cosponsors, tells Mother Jones. Dent says that supporters of the bill might try to introduce the measure at some point as an amendment, possibly to the National Defense Authorization Act.
Dent is confident that, should Boehner relent, enough Republicans would side with Democrats to pass ENDA in the House. "I haven't done a formal nose count or whip count, but I believe the votes are there," he says. He pointed out that in 2007, when ENDA last received a vote in the House, 35 Republicans approved the bill. But despite the overwhelming increase of public support for LGBT rights over the last six years, Dent isn't confident a vote on ENDA could match that level of support today. Too many of his colleagues are in safe districts now, where they don't worry about general elections but are terrified of offending the party's conservative base and facing a primary challenge. "That might help explain why not as many have been willing to cosponsor the bill," Dent says. The prospect of fewer Republicans voting for ENDA in 2013 than in 2007 is especially depressing for the bill's proponents when you account for the fact that there are 231 Republicans in the House today, compared to just 200 Republicans for that 2007 vote. "The Republican Party has to be about addition, not subtraction, [and] inclusion, not exclusion," Dent says. "This legislation would help the party broaden the base. It's that simple."
Republicans often distance themselves from accusations of bigotry by explaining their opposition to ENDA as an issue of protecting business interests. Dent doesn't buy that rationale. "American industry has moved beyond this already," he says. "What's being proposed here is something that many companies have already adopted. I don't see this bill as in any way controversial or one that would make life difficult for employers."
It truly isn't controversial for most of the country, just a small segment of the population that tends to be vocal in Republican primaries. But with the public increasingly tolerant of LGBT rights, a ban on workplace discrimination is inevitable. It's just up to Boehner whether that achievement will come under his watch.
"Clearly this is a generational issue," Dent said. "There's no question about that. I suspect that within a fairly short period of time, many people will question why we're even having a debate about this particular piece of legislation."
Read the full letter:
Mr. Speaker,

On 7 November 2013, the United States Senate passed S. 815, the Employment Non-Discrimination Act of 2013 (ENDA) by a bipartisan vote of 64 to 32. As cosponsors of H.R. 1755 – the House's companion legislation, we respectfully encourage you to bring this timely and commonsense legislation to a vote before the House of Representatives before the end of the 113th Congress.

An innate sense of fairness compels our country to rise above all forms of workplace discrimination. ENDA would help us move towards this goal in a manner that balances worker protections with respect for religious employers. Keeping with the notion that employees should be judged on their merits alone, the bill explicitly prohibits preferential treatment or hiring quotas. We are not seeking special privileges – just equal protections.

Job discrimination against any American creates an uneven playing field that runs contrary to the basic notion of equality and our economic efficiency. What matters most is not that we share the exact same beliefs as our coworkers or employees, but that we take pride in our work, respect our coworkers and customers, and get the job done.

It is our hope that this legislation will be brought to the House Floor – to allow the members to vote as they see fit – and demonstrate to the American people that Congress can work in a bipartisan manner on an important issue of fairness.

Sincerely,

Rep. Charlie Dent (R-PA-15)

Rep. Sean Patrick Maloney (D-NY-18)

Rep. Ileana Ros-Lehtinen (R-FL-27)

Rep. Kyrsten Sinema (D-AZ-9)

Rep. Richard Hanna (R-NY-22)

Rep. Jared Polis (D-CO-2)

Rep. Jon Runyan (R-NJ-3)

Rep. Kurt Schrader (D-OR-5)

Rep. Chris Gibson (R-NY-19)

Rep. Ron Kind (D-WI-3)