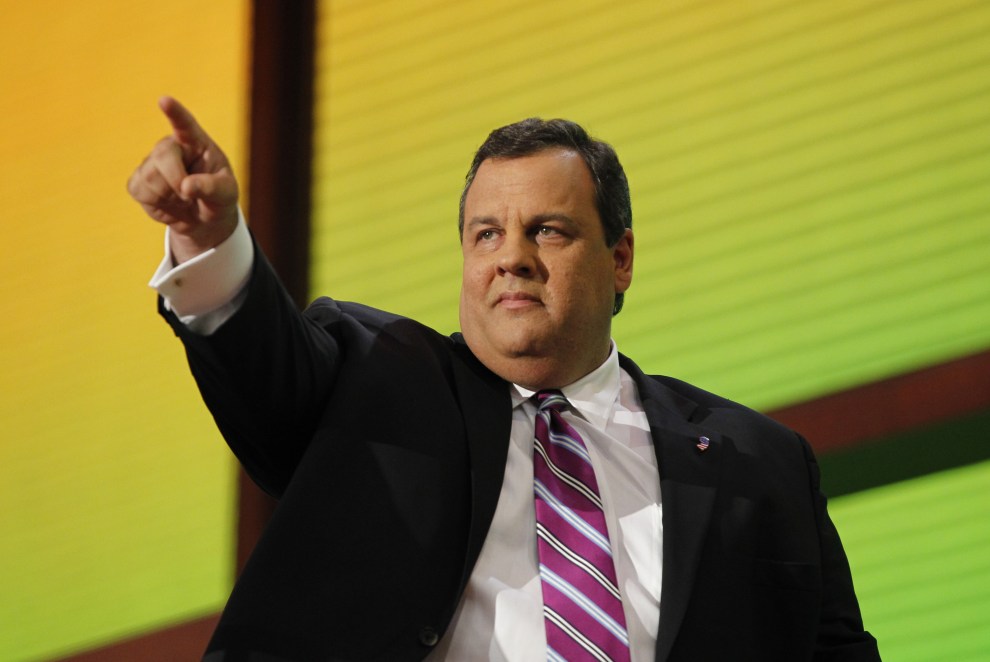 Fight disinformation:
Sign up
for the free
Mother Jones Daily
newsletter and follow the news that matters.
On Thursday, New Jersey Gov. Chris Christie held a press conference to distance himself from the growing scandal over allegations that his staff orchestrated a massive, week-long traffic jam on access ramps to the George Washington Bridge to exact political revenge on a mayor who refused to endorse Christie in last year's election.
At the press conference, Christie denied any "emotional relationship and closeness" with his high-school classmate David Wildstein, the Port Authority official at the center of the scandal. "David and I were not friends in high school," Christie said. "We were not even acquaintances in high school…We didn't travel in the same circles in high school. You know, I was the class president and athlete. I don't know what David was doing during that period of time." Wildstein, who ordered the lane closures that led to the traffic jam, resigned his Port Authority post last month. On Wednesday, in response to a subpoena, Wildstein gave state lawmakers emails and text messages about the scandal, including an email that appears to show Christie's deputy chief of staff instructing him to create "traffic problems." (Christie fired the deputy chief of staff, Bridget Anne Kelly, on Thursday morning.)
Christie and Wildstein may have traveled in different circles when they went to school together in the late 1970s, but they appear to have developed a kinship since then. Christie appointed Wildstein to a newly created position at the Port Authority, director of interstate capital projects, in 2010. And a March, 2012 article in the Record, a daily newspaper based in northern New Jersey, appears to contradict Christie's claim that he has no current ties to his high-school classmate. The piece details how Wildstein's colleagues viewed him as the "eyes and ears" of the governor's office at the Port Authority, someone with a "political agenda rather than one built on reform or improving the region's transportation system." The Record's article, drawn from anonymous interviews with other Port Authority employees, paints Wildstein as a Christie loyalist, one with an unfailing devotion to pushing the governor's goals and who was understood to represent the governor's voice at meetings.
From the article:
Inside the agency's headquarters, Wildstein plays a central role in decisions that affect the public.

He keeps a close watch on the agency's $1 billion project to raise the Bayonne Bridge, a big priority for the governor, and construction of a new Goethals Bridge, a top official familiar with his work said. Wildstein helped carry out the decision to strip most Port Authority employees and retirees of free E-ZPass privileges after Christie criticized the perk.

…

Several executives said Wildstein has played a role in placing some of those recommended by the Christie administration in jobs and that he seems to serve as the administration's eyes and ears within the byzantine agency.
On Thursday afternoon, New Jersey lawmakers held a hearing to ask Wildstein about his role in the lane closures. He refused to answer any questions, citing his Fifth-Amendment right to refuse to incriminate himself. (The US attorney's office in New Jersey has launched a criminal probe into the circumstances surrounding the traffic jam.) The New Jersey General Assembly's transportation, public works, and independent authorities committee held Wildstein in contempt.
This post has been updated.