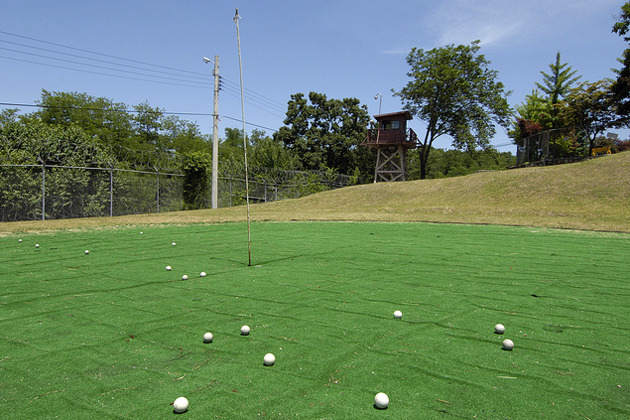 Fight disinformation:
Sign up
for the free
Mother Jones Daily
newsletter and follow the news that matters.
The United States military is undeniably massive. In 2012, the Pentagon spent 4.4 percent of our GDP on defense, with hundreds of billions going to contractors for assorted weapons, equipment, and essentials. What is not known is exactly how much money funds the military's international golf habit. Mother Jones has found that the Pentagon currently operates at least 194 golf courses and 2,874 holes of golf worldwide. Hover over any flag to tee up more information about the location, name, and size of these courses.

Source: See all data
Nearly all of the military golf courses are on US bases. Unsurprisingly, most are in the United States. However, greens can also be found throughout the Middle East, the Caribbean, Europe, and Asia. They somewhat coincide with strategic military locations, leaving states like Florida, Hawaii, and Virginia and countries like Germany and Japan covered with flags. The military's Morale, Warfare, and Recreation and Marine Corps Community Services programs, which run the courses (as well as library programs, youth programs, fitness centers, and bowling alleys), say they are designed to maintain troop morale and combat readiness during stressful situations or down time.
According to MWR officials, military golf courses must "generally" be self-supporting; however, they are quite expensive to run. As journalist Nick Turse pointed out in 2008, fairways and greens regularly need refurbishing. The US Golf Association estimates a standard 18-hole course can cost around $384,000 to $636,000 a year in maintenance fees. (Building a golf course can cost $1.6 to $4.5 million.) Just last year, the Pelican Bay Golf Course at Florida's Tyndall Air Force Base shut down after running a $270,000 average annual deficit since 2006.
The quality of military golf courses can differ dramatically, ranging from the sprawling 54-hole championship complex outside Andrews Air Force Base in Washington, DC, to a couple of holes plopped in the highlands of Mosul, Iraq. The terrain is further varied. The military operates its golf courses in volcanoes, surrounded by landmines, and just outside the notorious detention center in Guantanamo Bay. It also boasts the "World's Most Dangerous Golf Course"—a single par 3 just below the demilitarized zone separating North and South Korea.
Estimates of the total number of courses vary. In 1975, Wisconsin Sen. William Proxmire called out the Pentagon for spending $14 million a year to maintain 300 courses. Today, the most commonly reported number of courses is 234, but a thorough search turned up 194.
For more information, check out our list of military golf courses below. If you know of a course that's not here, leave a comment.