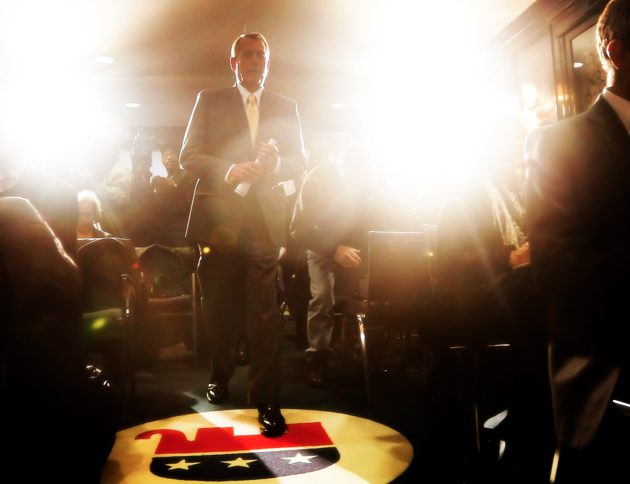 Fight disinformation:
Sign up
for the free
Mother Jones Daily
newsletter and follow the news that matters.
On Wednesday morning, Republicans won a years-long battle over whether to slash or spare food stamps when the House passed the farm bill, a $500 billion piece of legislation that funds nutrition and agriculture programs for the next five years.
The farm bill has been delayed for more than two years because of a fight over cuts to the food stamp program, which is called the Supplemental Nutrition Assistance Program (SNAP). Last June, Speaker of the House John Boehner (R-Ohio) forced a vote on a bill that would have cut $20 billion from SNAP. But conservatives said the cuts were not deep enough, Democrats said they were far too deep, and the bill failed, 234-195. That September, House Republicans drafted new legislation slashing $40 billion from the food stamp program. That bill passed the House with Republican votes only. After months of negotiations with the Democrat-controlled Senate, which wanted much lower cuts of around $4 billion, the House finally passed a farm bill 251-166 Wednesday that contains a "compromise" $9 billion in reductions to the food stamp program.
Both the Senate and President Barack Obama are expected to approve the legislation.
Here's why the compromise level of cuts is a Republican win: In addition to the $9 billion in food stamp cuts in this five-year farm bill, another $11 billion will be slashed over three years as stimulus funding for the program expires. The first $5 billion of that stimulus money expired in October; the rest will disappear by 2016. In the months since the first $5 billion in stimulus funding was cut, food pantries have been struggling to provide enough food for the hungry. Poverty remains at record high levels, and three job applicants compete for every job opening.
And yet, despite the $5 billion in cuts that already happened and the guarantee of $6 billion more, Republicans succeeded in getting their Democratic peers to cut food stamps further. This is the first time in history that a Democratic Senate has even proposed cutting the program. Now the upper chamber is expected to pass cuts twice the level it approved last year.
"It's a net loss for Democrats," Rep. Raul Grijalva (D-Ariz.), co-chair of the Congressional Progressive Caucus, tells Mother Jones. "It's absolutely a GOP win," agrees a House Democratic aide.
How did the GOP do it? In November, Dems said that Boehner was interfering with House-Senate negotiations on the farm bill, rejecting proposed legislation that contained shallower food stamps cuts. (Boehner's office denies this.)
But Dems deserve much of the blame, the Democratic aide says. Last year, House liberals were scheming to get progressives to vote against any farm bill that contained SNAP cuts. The idea was that if enough progressives voted no along with the House conservatives who think the cuts are too low, Democrats could defeat the bill. In that case, food stamp funding would be preserved at current levels. A "$9 billion [cut] is too much…It hits in the gut," Rep. Gwen Moore (R-Wis.) told Mother Jones earlier this month.
When the final bill came up for a vote in the House, the Congressional Progressive Caucus advised its 76 members to vote against the bill. But not enough Dems voted to block the cuts. One hundred three Democrats voted against the farm bill, but 89 voted in favor. If 43 more Democrats had voted no, the farm bill would have failed. "Dems are…complicit in changing [the] law, when they could just [block the bill] and let that status quo continue," the Democratic aide says.
Democrats in the House and Senate agreed to cut nutrition aid for poor Americans because they "have shifted to the right on SNAP politically," the staffer adds. "If Dems were as absolutist as the tea party, this bill would be dead on arrival and SNAP would continue as is."
But the assault on the food stamp program "could have been much, much worse," argues Ross Baker, a professor of political science at Rutgers University. Stacy Dean, the vice president for food assistance policy at the nonprofit Center on Budget and Policy Priorities (CBPP), agrees. Democrats succeeded in stripping many draconian GOP provisions from the bill. Republicans wanted to impose new work requirements on food stamp recipients; allow states to require drug testing for food stamps beneficiaries; ban ex-felons from ever receiving nutrition aid; and award states financial incentives to kick people off the program. None of those measures were in the final legislation, Dean notes.
The cuts to the food stamp program come from closing a loophole that lawmakers on both sides of the aisle agreed needed to be addressed. A household's level of monthly food stamps benefits is determined by how much disposable income a family has after rent, utilities, and other expenses are deducted. Some states allow beneficiaries to deduct a standard utility charge from their income if they qualify for a federal heating aid program called the Low Income Home Energy Assistance Program, even if they only receive a few dollars per year in heating aid. The arrangement results in about 850,000 households getting a utility deduction that is much larger than their actual utility bill. Because the deduction makes these families' disposable income appear to be lower than it actually is, they get more food stamp money each month. The farm bill that passed the House on Wednesday saves $9 billion by closing that loophole.
The savings from closing the heating aid loophole could have been returned to the food stamp program. Instead, Republicans succeeded in prodding Dems to accept $9 billion in new cuts on top of the $11 billion in expiring stimulus funds. That extra $9 billion in cuts means that close to a million households will see their benefits slashed by about $90 a month—enough to pay for a week's worth of cheap groceries for a family of four.