The search is over. Following controversy last year over Saturday Night Live's lack of on-camera diversity, the NBC sketch comedy series held an audition for black female comedians. On Monday, SNL revealed their newest cast member: Sasheer Zamata. The comedian and improv veteran will make her SNL debut on January 18, in an episode hosted by Canadian rapper Drake.
Zamata, who trained at the Upright Citizens Brigade Theatre in New York City, is the first black female cast member since Maya Rudolph departed the show in 2007, and only the fifth in SNL history. To get a taste of what you can expect from her, here's her impression of First Lady Michelle Obama reading an updated version of "Go the Fuck to Sleep":
UPDATE: The video is now listed as private. Here's a screenshot of Zamata as Obama, though: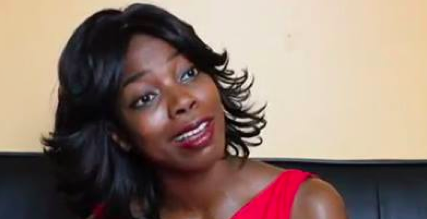 (The video also includes Zamata as Nicki Minaj reading Dr. Seuss' "Green Eggs and Ham.")
Zamata's star has been rising for a few years now. She was praised by Jezebel in 2012, and was named one of Cosmopolitan's "13 Funny Women to Watch in 2014." Her credits include Comedy Central's Inside Amy Schumer, FX's Totally Biased with W. Kamau Bell, and her web series "Pursuit of Sexiness."
In an interview with "Man Cave Daily" last October, Zamata described how she got into acting: "I knew I wanted to come to [New York], and I knew I wanted to perform, but I didn't know how," she said. "I studied theater in college. Before I got to college I thought I wanted to be a journalist. I just wanted to be in front of people, but I didn't know how. Then I got to college and I didn't want to study journalism anymore, I wanted to do plays…[After college], I was auditioning for off-Broadway plays, but I kept going to [Upright Citizens Brigade]. I knew of UCB because they came to my school to perform. I was watching them and thinking, man, wherever they came from that's where I want to go. Bobby Moynihan was one of the performers and someone asked him, 'How to get a career in comedy?' Bobby replied, 'Go to NYC, go to UCB, and work really, really hard.'"
And on January 18, Zamata will join her now fellow SNL cast member Moynihan on national television.